DPP remains 'loyal' to voters and workers
President Tsai Ing-wen (蔡英文) yesterday reiterated that the Democratic Progressive Party (DPP) remains loyal to the interests of voters and workers.
She reaffirmed her government's stance on a draft amendment to the Labor Standards Act (勞動基準法), which would implement a five-day workweek, with one mandatory day off and one "flexible rest day."
The DPP yesterday pushed through the draft amendment in a legislative committee meeting, despite strong opposition from the Chinese Nationalist Party (KMT) and the New Power Party.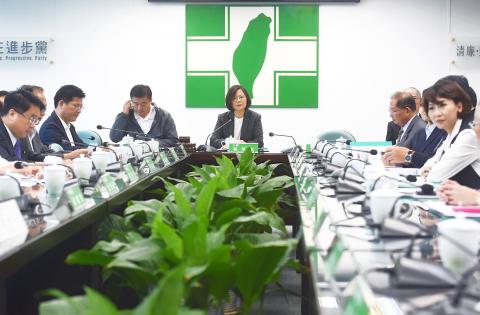 President Tsai Ing-wen, center, yesterday speaks at the Democratic Progressive Party's headquarters in Taipei.
Photo: Chien Jung-fong, Taipei Times
"The DPP has long been workers' partner. It is our fundamental philosophy and that will not change," Tsai, also who serves as the party's chairperson, said at the party's weekly Central Executive Committee meeting yesterday.
Since her administration took office, it has settled an employment termination dispute with former freeway toll collectors, raised minimum wages and implemented a workweek system to ensure one day off for every seven days worked, which shows the DPP's efforts to promote workers' rights, Tsai said.
Some of Tsai's campaign promises were to implement a five-day workweek, unify the nation's vacation schemes and reduce total annual working time without reducing wages.
Tsai said that the government is carrying out those promises.
Revisions of the act under former administrations were incomplete, leaving it inadequate to enforce an across-the-board five-day workweek and resulting in the inconsistency between the nation's different vacation schemes, she said.
The draft amendment and supporting measures were designed to reduce working hours while maintaining necessary flexibility to allow small and medium-sized enterprises to survive and workers to receive wage increases.
The Cabinet and the DPP legislative caucus are drafting laws to increase annual leave for workers, especially young and junior workers, to improve their rights, she said.
Tsai promised to reinforce labor law enforcement, such as workplace inspections, to protect workers' rights and improve the investment environment.
"No policy can satisfy everyone, which I am very aware of," she said. "It is not the government's job to ingratiate itself with anyone. It is our fundamental principle to do whatever is necessary."
Citing an open letter she wrote on Wednesday last week to mark the 30th anniversary of the DPP's founding and a Wall Street Journal interview published yesterday, Tsai said the government's stance on cross-strait relations remains unchanged: It will maintain the "status quo" and will not surrender under China's pressure.
"Our promise [to maintain the 'status quo'] remains unchanged. Our good will remains unchanged. We will not succumb to pressure and will not return to the old path of conflict," Tsai said.
"I have to emphasize that maintaining the 'status quo' is not my personal choice, but a decision collectively made by Taiwanese through elections," the president added.
Comments will be moderated. Keep comments relevant to the article. Remarks containing abusive and obscene language, personal attacks of any kind or promotion will be removed and the user banned. Final decision will be at the discretion of the Taipei Times.