Director Ang Lee lauds innovative technologies
Oscar-winning Taiwanese director Ang Lee (李安) on Friday said that cutting-edge technologies, such as the ones used in his latest film, Billy Lynn's Long Halftime Walk, could revolutionize moviegoer relationships with film, making the experience much more intimate and personal.
"When a film is shot at more than 60 frames per second, especially in 3D format, you will feel as if this is no longer someone else's affair, but your own affair now," Lee said at a news conference in Taipei. "You can no longer stay out and look at the film as a bystander. You feel as if you have walked into it."
The biggest breakthrough of the film is not the sharpness and clarity of its images, but its potential to change people's basic attitudes toward cinema viewing, and their relationships and interactions with the story, Lee said.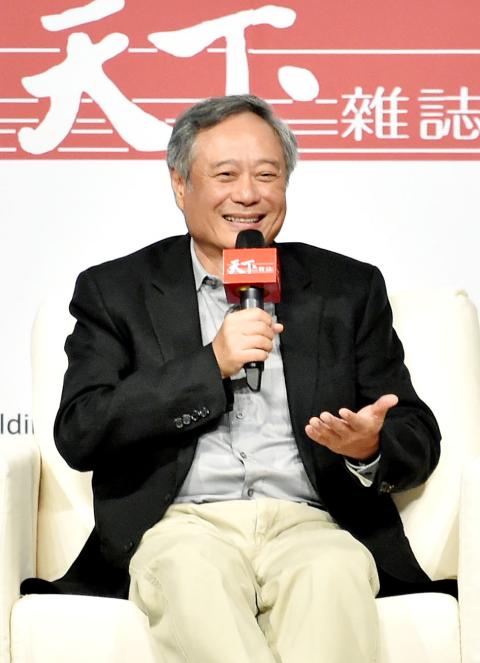 Film director Ang Lee talks at a forum held by CommonWealth Magazine yesterday in Taipei.
Photo: Chen Yi-quan, Taipei Times
"That has been the biggest inspiration and challenge for me," said the 62-year-old filmmaker, who is in Taiwan to promote his new film.
Lee's new film was shot in 3D, 4K resolution at 120 frames per second — the highest frame rate for any movie in history, and five times the normal cinema rate of 24 frames per second.
The ultra-high frame rate is said to produce crystal-clear images that make it seem like audiences are looking through a window.
Billy Lynn's Long Halftime Walk is about a group of soldiers, including 19-year-old private Billy Lynn, who were celebrated for their exploits during the war in Iraq at halftime during a football game.
Although the film's cutting-edge technology has drawn attention, Lee said his ambitions were never to apply that technology in a large action movie or in a big-budget scene.
"I just wanted to get a better view of the face," he said.
Whenever he is observing a human face with his own eyes or watching a good actor perform, Lee said he always feels that the cameras fail to show all the subtleties of the human face.
"I've always hoped that in the future, films will resemble what my eyes see, but will remain stories at the same time," Lee said.
The director said he feels some contradictions about filmmaking — on the one hand he wants to quit, while on the other he wants to achieve more breakthroughs.
"People have asked me if I have ever wanted to give up and I say: 'Of course. I think about it at least three times a day,'" Lee said. "After Crouching Tiger, Hidden Dragon I thought I was going to retire."
Lee went on to take up more challenges, including the 3D epic Life of Pi, which had been deemed unfilmable by some because of the complexity of the plot.
"After Crouching Tiger, Hidden Dragon I was no longer interested in difficult films. I was only interested in impossible ones," Lee said.
He said he has high hopes for high-resolution, high-frame rate filmmaking and believes that the current phase is a transitional one.
"My dream is to shoot a musical or something more illusory using this method," he said.
The film hits theaters in Taiwan on Nov. 11. Vieshow Cinema in Taipei's Q Square is the only cinema in Taiwan equipped to show the film in its original format.
Comments will be moderated. Keep comments relevant to the article. Remarks containing abusive and obscene language, personal attacks of any kind or promotion will be removed and the user banned. Final decision will be at the discretion of the Taipei Times.