KMT tells Tsai not be jealous of trip
PROMOTING TAIWAN? A visit by KMT and independent heads of governments pushed for cross-strait exchanges and improving the quality of trips to Taiwan
The Chinese Nationalist Party (KMT) yesterday urged President Tsai Ing-wen's (蔡英文) administration to refrain from being jealous over a recent meeting between Chinese cross-strait officials and a delegation of predominantly KMT local government heads, saying the delegation was merely trying to find a way out for their nation.
KMT Culture and Communications Committee deputy director Hu Wen-chi (胡文琦) said the group, made up of six KMT members and two independents, made three requests during their two-day visit to Beijing, during which they met with Chinese People's Political Consultative Conference Chairman Yu Zhengsheng (俞正聲) and Taiwan Affairs Office Minister Zhang Zhijun (張志軍).
"They hope that Beijing will continue to purchase Taiwan's agricultural products; that cross-strait tourism and cultural exchanges will be expanded; and that platforms will be established between Beijing's tourism bureau and Taiwan's local governments to promote high-quality tours, protect the safety of travelers and increase the quality of Chinese visitors' trips," Hu said.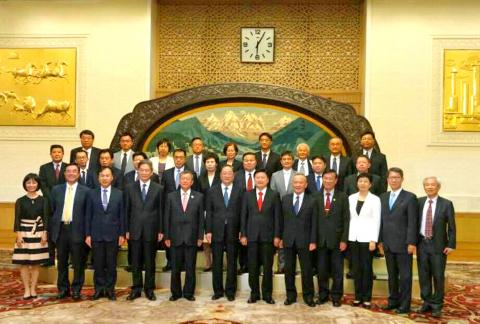 Hualien County Commissioner Fu Kun-chi, front row sixth right, together other members of a delegation of pan-blue camp government heads, on Sunday poses for a group photograph in Beijing, China.
Photo courtesy of the Hualien County Government
None of the requests were aimed at selling out Taiwan or were detrimental to the nation's sovereignty or dignity, he said, urging the Tsai administration not to have "sour grapes."
No one can force Tsai to acknowledge the so-called "1992 consensus," but as the nation's head of state, she ought to address problems or at least provide better alternatives, Hu said.
"After all, Beijing's suppression of Taipei and its united front economic and political warfare did not start today," Hu said.
The "1992 consensus" — a term former Mainland Affairs Council chairman Su Chi (蘇起) admitted that he made up in 2000 — refers to a supposed understanding reached during cross-strait talks in 1992 that both Taiwan and China acknowledge that there is "one China," with each side having its own interpretation of what "China" means.
The Democratic Progressive Party and Tsai have never recognized the existence of such an agreement.
Since Tsai's inauguration, China has suspended official cross-strait communications and reduced the number of Chinese tourists allowed to visit Taiwan in an apparent bid to pressure her government to say that it recognizes the consensus.
KMT Culture and Communications Committee deputy director Tang Te-ming (唐德明) said Taiwan's economy has been pushed to the brink of suffocation due to the freezing of cross-strait ties since Tsai's inauguration in May.
Citing a survey published yesterday by the Chinese-language United Daily News, Tang said that 48 percent of the respondents were unhappy with Tsai's performance so far.
"It is worth noting that the percentage of people who believed that the '1992 consensus' is the cause of a soured cross-strait relationship has increased from 2 percent last year to 18 percent now," Tang said.
Tang said the change suggests that people only realized the significance of the "1992 consensus" now that it has "disappeared," and he urged Tsai to seriously reconsider the issue.
Comments will be moderated. Keep comments relevant to the article. Remarks containing abusive and obscene language, personal attacks of any kind or promotion will be removed and the user banned. Final decision will be at the discretion of the Taipei Times.