Tsai vows to improve army's equipment, barracks
President Tsai Ing-wen (蔡英文) yesterday promised to improve the personal equipment and living environment of the nation's troops during a visit to a military base in Hsinchu.
Tsai traveled to Taoyuan and Hsinchu to visit troops who will remain on duty throughout the Mid-Autumn Festival holiday.
Offices and schools will be closed from Thursday to Sunday.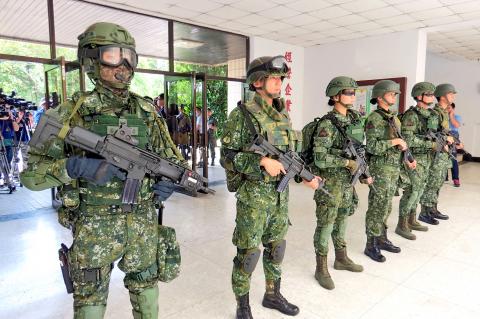 Soldiers from the army's 542nd Armored Brigade stand guard during a visit by President Tsai Ing-wen, not pictured, yesterday at an army base in Hsinchu.
Photo: CNA
Speaking at an inspection of the army's 542nd Armored Brigade in Hsinchu, the president told the troops that she has directed the Ministry of National Defense to complete its upgrade of military clothing and equipment within three years, and to quicken the pace of refurbishing military barracks.
As part of the tour, Ma Shu-jung (馬樹榮), head of the research and development division of the Armament Bureau's 205th Armory, displayed military kit and personal equipment it has developed.
Ma said the unit produces military helmets, combat vests and bulletproof vests, while contracting private companies to manufacture shooting glasses, elbow guards and boots.
The production generates about NT$2 billion (US$63 million) for related industries.
Tsai also paid a visit to the 66th Marine Brigade in Taoyuan to greet troops who will remain on duty during the holiday.
Comments will be moderated. Keep comments relevant to the article. Remarks containing abusive and obscene language, personal attacks of any kind or promotion will be removed and the user banned. Final decision will be at the discretion of the Taipei Times.