Uber Taiwan boss equivocates on tax
HIT FM: The firm is up to date with all its obligations, Ku Li-kai said, adding that Taiwan has no laws that can levy taxes on commissions, or cross-border e-commerce operators
Uber Taiwan general manager Ku Li-kai (顧立楷) yesterday remained ambivalent on whether the company is paying taxes for offering taxi services in Taiwan, adding that the company has paid all the taxes required of it by law and the nation has yet to promulgate tax laws applicable to cross-border e-commerce operators.
Ku made the comments during an interview with Hit FM radio show host Clara Chou (周玉蔻) yesterday morning.
Chou said that the company has working capital of approximately NT$3 billion (US$95.4 million), and that the company is entitled to about 25 percent in commission. She asked if that means the company has about NT$750 million in an offshore, untaxed account.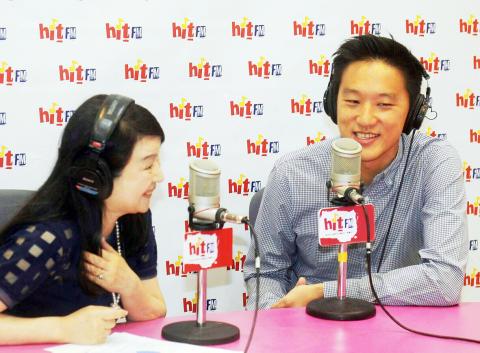 Uber Taiwan general manager Ku Li-kai smiles at the Hit FM radio studios yesterday.
Photo: CNA
Chou also asked Ku how the company ascertains that all the Uber drivers pay their taxes for the income they have earned.
Ku said the Uber drivers file individual tax reports based on their incomes, adding that the company itself over the past three years has been paying the taxes required of it by law.
Chou said the taxes that Ku claimed the Taiwan branch had paid were actually operational costs that were paid by Uber headquarters.
She also said that Uber drivers are unlikely to disclose their additional incomes in their tax reports, and pressed Ku to admit that Uber and its drivers have paid no taxes over the past three years.
Ku said that the government would need new laws if it wants to impose taxes on commissions, adding that there are also no tax laws applicable to cross-border e-commerce operators, while the National Development Council is to hold a meeting on the tax environment for cross-border e-commerce operators on Thursday next week.
Ku said that he did not know how much tax the company has paid, because he is not its accountant, to which Chou replied that he could not smooth-talk his way out of the question.
Saying that Uber is registered as an information service operator, but actually offers a transport service, Chou asked why the company continues to operate knowing full well that is operating an illegal business.
Ku said that any innovative service would clash with regulations, as such business models have not existed before.
Therefore, the company thinks that it is necessary to communicate with local governments about a regulatory environment, he said.
Uber Taiwan is not trying to force the government to recognize the company as a legitimate entity, Ku said, adding that 60,000 Taiwanese have signed a petition for Uber to be allowed to stay.
Uber has already become a legal business in 70 cities around the world, Ku said.
The Ministry of Transportation and Communications said it remained determined to introduce a diversified taxi service making effective use of technology and also to relax regulations in order to help taxi operators develop new services to counter the challenges and competition of the modern age.
However, the crackdown on Uber and its drivers would continue as long as the company offers taxi services illegally, the ministry said.
Comments will be moderated. Keep comments relevant to the article. Remarks containing abusive and obscene language, personal attacks of any kind or promotion will be removed and the user banned. Final decision will be at the discretion of the Taipei Times.