Tennis star drops Rio bombshell
NO DOUBLES: Hsieh Su-wei said that comments by Taiwanese official Su Chia-hsiang about her ranking meant she would only compete in the women's singles next month
Taiwanese tennis player Hsieh Su-wei (謝淑薇) has announced via Facebook that she would be dropping out of the women's doubles at next month's Olympic Games in Rio de Janeiro and only competing in the women's singles.
Hsieh said her decision was influenced by comments made by Chinese Taipei Tennis Association (CTTA) member Su Chia-hsiang (蘇嘉祥), who said on Facebook that Hsieh's ranking was the worst of all of the five Taiwanese tennis players going to Brazil.
The issue central to the dispute between Hsieh and the CTTA is Hsieh's accusation that the association favors sisters Chan Yung-jan (詹詠然) and Chan Hao-ching (詹皓晴), allowing them access to their own coach, while Hsieh is being denied one.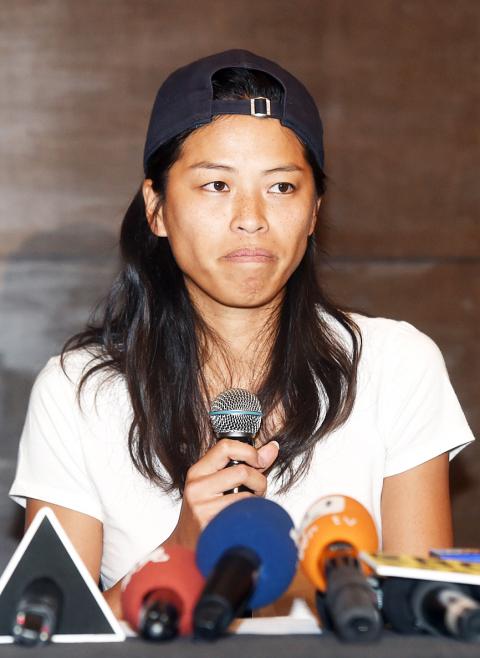 Tennis player Hsieh Su-wei speaks at a news conference in Taipei on Tuesday last week.
Photo: Chieh Jung-fong, Taipei Times
Hsieh, the nation's No. 1 female singles player and the only Taiwanese to claim a world No. 1 spot — in the Women's Tennis Association (WTA) Tour doubles rankins in May 2014 — has also won two Grand Slam doubles titles alongside China's Peng Shuai (彭帥) — Wimbledon in 2013 and the French Open in 2014.
However, she has fallen to 68th in the WTA Tour doubles rankings, while the Chan sisters are in joint sixth place.
"Since Mr Su has made up his mind that I am the worst out of the five and [Chinese Taipei Tennis] Association secretary-general Liu Chung-hsing (劉中興) wished to be given fair treatment, I too must have my own justice," Hsieh wrote, adding that she would only be competing in the women's singles, which she has been training for the most of the past year and in which she is ranked 80th.
Hsieh said that despite Su's comments that she was the worst player, she seems to hold the greatest influence over the other Taiwanese players.
Hsieh's comment referred to the potential of Chuang Chia-jung (莊佳容), ranked 41st, losing her eligibility to play at the Olympics if Hsieh drops out of the doubles, while men's No. 1 Lu Yen-hsun (盧彥勳) would lose access to his coach if Chuang does not compete.
Liu said that Chuang's spot at the Olympics would not be taken away simply because of unilateral comments by Hsieh, adding that Chuang would still receive her credentials and be able to stay at the Olympic Village.
The CTTA could be asked for an explanation by the International Olympic Committee if Hsieh follows through with her threat, Liu said, adding that the association would not make an official statement at this time.
"This is a sports competition at a national level, not Hsieh's private competition," Liu said.
Meanwhile, Lu Yen-hsun's brother, Lu Wei-ju (盧威儒), said that regardless of whether Lien Yu-hui (連玉輝), his brother's coach, would receive a pass, Lien would still be attending the Olympics Games.
Lu Wei-ju said the decision is indicative of the importance of the coach being available to Lu Yen-hsun during the Games.
Comments will be moderated. Keep comments relevant to the article. Remarks containing abusive and obscene language, personal attacks of any kind or promotion will be removed and the user banned. Final decision will be at the discretion of the Taipei Times.