Kaohsiung station plan approved
Design plans for a remodeling of the historic Kaohsiung Railway Station submitted by the Dutch design studio Mecanoo have been approved by the Kaohsiung Urban Development Bureau, the bureau announced on Thursday.
The Ministry of Transportation and Communications' plans for renovating Kaohsiung Railway Station began in 2000, but locals criticized initial plans, saying they lacked functionality, both from business and transportation points of view, and did not fit into the surroundings.
In response, the city held a series of meetings on the issues and established a communication platform to exchange ideas. The ministry then entrusted the station's design to Mecanoo, which created a "stunning" design that both the local and central governments were pleased with, city officials said.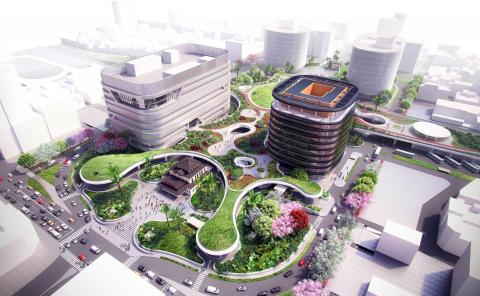 A model of the area surrounding the planned new Kaohsiung Railway Station is pictured in an undated photograph.
Photo: courtesy of Mecanoo
"The station design provides a large outdoor activity area for local residents and, taking into account the stifling heat of the south, provides lots of greenery for shade, emulating the experience of being in a traditional Taiwanese temple courtyard. The unconventional oval-shaped lights in the canopy's ceiling create impressions of a temple lantern festival," Kaohsiung Urban Development Bureau Director-General Lee Yi-de (李怡德) said.
Parallel walking trails and cycling paths stretch for 15km through the top of the canopy connecting the eastern and western peripheries. Climbing the station's canopies, visitors can take in the beauty of the Shoushan (壽山) and Beidawu (北大武山) mountains in the distance.
"To create a sense of melding the old and the new, the old colonial-era Japanese station is to be moved to a spot along the central axis of the new station. The encircling of the old station by the new one will lend itself to an atmosphere of continued traditions," Lee said.
The publishing of a simulated image of the new station a few days ago by the Architect's Newspaper proved popular online. Netizens called the design "stunning" and asked: "Can Taipei Railway Station still be saved?"
"The station's design escapes the old engineering thought process of prioritizing functionality and takes the liberation of space brought about by underground transportation a step further, acting as an important marker for emphasis on activity space for the public," a bureau statement said.
After deliberating on the new plans, the ministry would be urged to begin work on the project as soon as possible, with the aim of completing the station by 2023, bureau officials said.
Comments will be moderated. Keep comments relevant to the article. Remarks containing abusive and obscene language, personal attacks of any kind or promotion will be removed and the user banned. Final decision will be at the discretion of the Taipei Times.