Protesters egg education official
SCRAMBLED DUTIES: Protesters said the MOE's backing of 'teaching assistantships' is allowing schools to exploit students by not providing labor and health insurance
A group of university students yesterday rallied outside the Ministry of Education in Taipei over the introduction of "student assistantships," but the protest turned confrontational and a ministry official was egged.
The protesters, who included members of the higher education labor union The Union and students from National Chengchi University (NCCU), National Yang-Ming University and National Taiwan Normal University, said the use of "student assistantships" encroaches on the labor rights of students.
Labor and health insurance should be provided to teaching assistants, but schools have failed to do so and the ministry has attempted to avoid trouble by promoting the idea of "student assistantships," they said.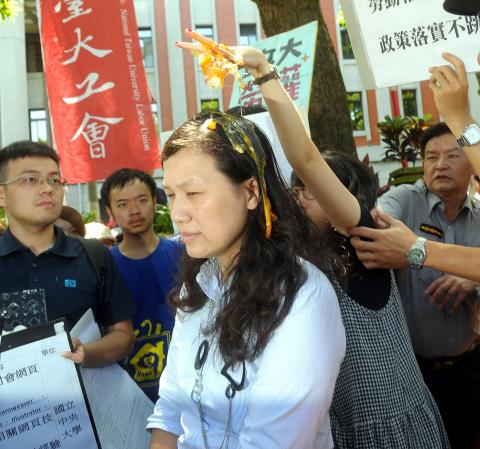 A university student protesting outside the Ministry of Education in Taipei yesterday breaks an egg over the head of ministry official Wang Shu-chuan.
Photo: CNA
Student assistants have to sign up for non-credit electives to make it look like the work they do is actually study, but they still have to do the same amount of teaching as before, said Wu Zhou-ju (吳昭儒) of the NCCU Labor Rights Association.
The ministry's promotion of "student assistantships" has allowed schools to avoid treating assistants like the employees that they are, the protesters said, citing National Taiwan Normal University's "master and disciple system."
National Yang-Ming University student teaching assistants earn a stipend of NT$6,000 a month, but also have to clean their departments' offices, while NCCU pays its full-time teaching assistants NT$6,000 to NT$8,000 per month, but academic endeavors are undermined in favor of greater work-related pressure, they said.
Wang Shu-chuan (王淑娟), who is in charge of the ministry's higher education division, came out to speak to the protestors.
"Student assistantships" must comply with requirements to be related to study programs and graduation requirements, she told them.
There is a clear division between "employment" and "student assistantships" and schools appear to be taking the costs of assistantships into consideration, she said.
Wang told the protesters that the ministry is monitoring the assistantship programs, but the students were not happy with her explanations.
One student smashed an egg over Wang's head while others threw eggs at the ministry, shouting: "We return this rotten egg of study to the Ministry of Education."
Comments will be moderated. Keep comments relevant to the article. Remarks containing abusive and obscene language, personal attacks of any kind or promotion will be removed and the user banned. Final decision will be at the discretion of the Taipei Times.