Keelung Maritime Plaza's public art used as playground
Children and adults visiting the Keelung Maritime Plaza have been using public art installations as playground slides, local residents said.
The plaza, which is a major attraction for visitors and local residents, was reopened on June 23 following extensive repairs to its wooden boardwalk.
Large steel pieces, sculpted to form the letters of the word "Keelung" and adorned with LED lights, were installed on the plaza to attract visitors, but local residents said on social media that toddlers had been seen using the sculptures as slides.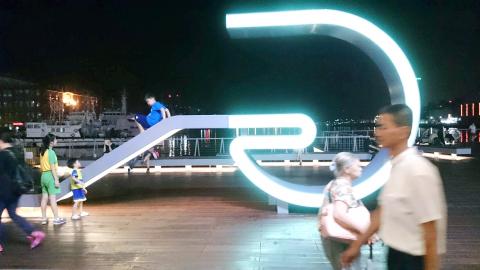 A boy slides down an illuminated sculpture at the Keelung Martime Plaza on Wednesday.
Photo: Lu Hsien-hsiu, Taipei Times
Multiple complaints were made by Keelung residents on the city government's Facebook page, saying such behavior damages the city's image, exposes children to accidents and puts the art pieces at risk of damage, adding that adults also sometimes climb the installations to get a better view of the sea.
A reporter witnessed children sliding down the installations while their parents stood nearby without taking any action to stop them.
In response to inquiries, Keelung Department of Transportation and Tourism Director-General Lee Kang (李綱) said that the city government would respond by putting up signs requesting children and adults to stay away from the installations, adding that contractors would be commissioned to add protrusions to the installations, like the ones on the escalators at Taipei's Mass Rapid Transit stations, to discourage sliding and other dangerous behavior.
Comments will be moderated. Keep comments relevant to the article. Remarks containing abusive and obscene language, personal attacks of any kind or promotion will be removed and the user banned. Final decision will be at the discretion of the Taipei Times.