Taitung release of tiger shark pups world first
More than 30 tiger shark pups rescued last month from two pregnant, dead tiger sharks found off the coast of Taitung County are growing well, a marine biology expert said, adding that 20 pups were released on Thursday, with two bearing microsatellite markers to record their movements.
Fishermen operating out of Taitung County's Chenggong (成功) fishing port hauled in the two dead female sharks on June 13 and June 14.
Seventy-five live shark pups were rescued and sent to the Fisheries Research Institute's East Coast Marine Biology Center in Taitung for observation.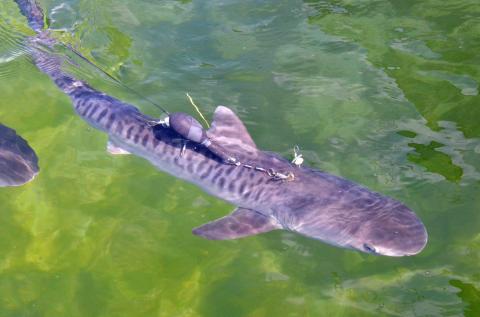 A tiger shark pup with a microsatellite marker on its back swims in open water on Thursday after it was released in the ocean near Taitung.
Photo: CNA
The first litter of 38 pups averaged about 80cm in length, while the second litter of 37 averaged 60cm in length. Overall, 35 survived, East Coast Marine Biology Center director Ho Yuan-hsing (何源興) said.
The pups have grown to about 1m in length, Ho added.
"The mass release of tiger shark pups was a world first," Ho said. "The tracking devices on the pups are labeled with the name of the center and its contact information."
The devices let the center monitor the growth rate and the movements of the sharks if they are caught in the future, Ho said.
Microsatellite markers can also be used to record information about the environment the pups live in, including the temperature, water depth and time spent in the sunlight, Ho said.
The markers are designed to fall off after 240 days. The information is sent back to the center via satellite for analysis, Ho said.
This is the first time that microsatellite markers have been used to study tiger sharks' habits and movement, which is likely to provide a reference for marine resource assessment and strategies for protecting marine life, Ho said.
Comments will be moderated. Keep comments relevant to the article. Remarks containing abusive and obscene language, personal attacks of any kind or promotion will be removed and the user banned. Final decision will be at the discretion of the Taipei Times.