Changhua decks station with grape theme
The train station in Changhua County's Dacun Township (大村) has come alive with new installation art and decorations to let travelers know they are in the heart of the nation's grape industry.
The county government worked with the township on the project to freshen up Dacun Station's look, which was completed in the middle of last month, to promote the upcoming grape harvest season and try to attract more visitors to the county.
Grapes are an important part of life in Changhua, which accounts for about half of the grape production in Taiwan, and Dacun was the most sensible option for the promotion, because it has the oldest tradition of grape cultivation in the county, the Changhua Department of Agriculture said.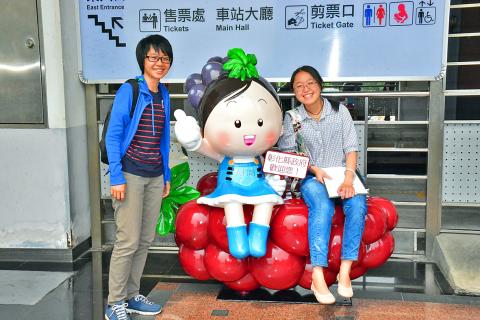 Travelers pose with a grape-themed seat at Changhua County's Dacun Township on Sunday.
Photo: CNA, courtesy of Changhua County Government.
Visitors are greeted at the entrance of the station by a plastic grape doll figure, while posters with grape-related images cover the walls from the station hall to the platforms.
One large display beside the ticket windows in the station hall features Taiwan's oldest grape vine, a 57-year-old Kyoho vine believed to be the origin of other Kyoho grape vines in the nation, the department said.
Most of the promotional posters and decorations are placed on the station's two platforms and were designed to be seen by passengers in trains that pass through the station without stopping, it added.
The department said it hopes that the displays will brand Changhua as the nation's grape hub in the minds of passengers.
Dacun Station Master Chang Wu-sung (張武宋) said he appreciated the county government's efforts to spruce up the station's appearance and make it stand out, adding that he believes the new look will help promote the local specialty.
Comments will be moderated. Keep comments relevant to the article. Remarks containing abusive and obscene language, personal attacks of any kind or promotion will be removed and the user banned. Final decision will be at the discretion of the Taipei Times.