Volunteers help rebuild village
LAST RESORT: A Padain resident and the organizer of the rebuilding effort said they sought volunteers, as they were unable to attract the attention of the public
Padain Village, which was devastated by Typhoon Morakot in 2009, is being brought back to life with the help of volunteers.
Located in a ravine overlooking the Ailiao River (隘寮溪), with Pingtung County's Wutai Township (霧台) to the east and Dawu Mountain (大武山) to the south, the village is said to be the oldest settlement of the Paiwan people.
Since March, volunteers have been navigating the mountains on foot or the river on rafts to reach the village and help the rebuilding efforts, with four groups arriving each month, said a Padain resident and the organizer of the volunteer event, who wanted to be identified only as Dongfang (東方).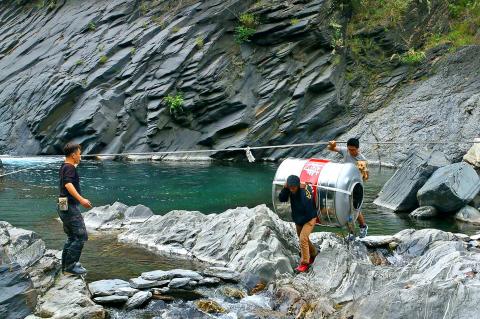 Volunteers carry a water tower across the Ailiao River to Pingtung County's Padain Village in an undated photograph.
Photo: Chiu Chi-jou, Taipei Times
Dongfang said that the event aims to revitalize the site of the Paiwan people's origins, adding that they sought volunteers because they were unable to attract the attention of the public or the government.
The groups that visit the village stay for three days and two nights, helping to repair buildings and clean out debris left by the typhoon, Dongfang said.
The event differs from the holiday work camps geared toward giving visitors a taste of village life, Dongfang said, adding that the volunteers spend their own money and work hard, and bring their own tools and supplies to help rebuild the village.
"It is a dream that will take a long time and a lot of help and resources to come true, but despite the difficulties, some semblance of the village's past glory is being restored thanks to the hard work of the volunteers," Dongfang said.
Pointing to a volunteer group of about 10 people, Dongfang said it is especially moving to see people signing up to work in an environment bereft of the comforts of modern technology, adding that he is sure the volunteers feel a sense of obligation and honor during the process.
The volunteers said that the village was not only the "point of origin" of the Paiwan people, but also preserved traces of Aboriginal activities from about 400 years ago.
"Only by visiting the village can a person truly experience the beauty of nature and see with their own eyes the remnants of the wisdom of our forebearers," a volunteer said.
Typhoon Morakot struck on Aug. 7, 2009, causing catastrophic damage in southern regions, leaving more than 600 people dead.
Comments will be moderated. Keep comments relevant to the article. Remarks containing abusive and obscene language, personal attacks of any kind or promotion will be removed and the user banned. Final decision will be at the discretion of the Taipei Times.