Legislator raises nepotism charges at state-run firms
Minister of Transportation and Communications Hochen Tan (賀陳旦) yesterday promised to tighten scrutiny of companies owned or run by the ministry following allegations of nepotism leveled against the management of CECI Engineering Consultants and China Engineering Consultants.
CECI has been receiving flak, as the company oversaw several construction projects at Taiwan Taoyuan International Airport, among them one of the airport's drainage pipes, which became blocked and was blamed for a flood on June 2.
Democratic Progressive Party (DPP) Legislator Cheng Yun-peng (鄭運鵬) said at the meeting of the legislature's Transportation Committee that CECI is a subsidiary of China Engineering Consultants, which was established by the ministry, and the close relationship between the two makes it easy for retired ministry officials to assume management positions at the firms.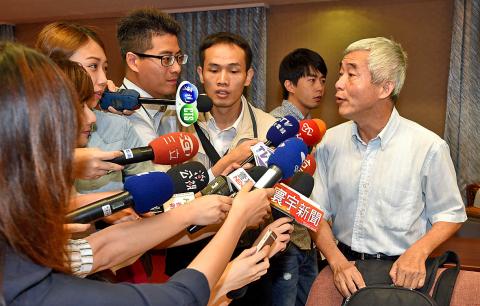 Minister of Transportation and Communications Hochen Tan, right, yesterday talks to reporters at the Legislative Yuan in Taipei.
Photo: Lo Pei-der, Taipei Times
Cheng said jobs were also passed to family members in these two companies.
Cheng cited as an example former National Freeway Bureau director-general Shih Chung-kuang (石中光), who, following his retirement, served as chairman of CECI from September 1990 to September 1996.
Shih's daughter and his son-in-law subsequently joined the company, and his son-in-law still works for CECI, Cheng said.
Cheng also cited as an example CECI vice chairman Chang Dyi-wei (張荻薇), whose son went to work for a subsidiary of CECI when Chang was the president.
He added that former Taoyuan International Airport Corp chairman Samuel Lin (林鵬良), when he was the president of China Airlines, arranged for his son to work at an overseas branch of the airlines.
Citing Article 26 of the Civil Service Employment Act (公務人員任用法), Cheng said that government agency chiefs are not allowed to employ their spouses, relatives by blood or marriage, or to name them director of a subordinate agency.
He said the ministry needed to look at the management of the two construction firms and other ministry-affiliated companies.
The committee passed a resolution proposed by Cheng and other lawmakers giving the ministry six months to look into the possibility of shutting down China Engineering Consultants.
Assets would be donated to the ministry after its shutdown and former employees would work for CECI Engineering Consultants, according to the resolution.
According to Cheng, all businesses formerly run by China Engineering Consultants are now handled by CECI Consultants.
However, China Engineering Consultants' overhead has soared from NT$140 million to NT$200 million (US$4.34 million to (US$6.2 million), Cheng said, adding that its number of employees have also gone up from 35 to 50.
Comments will be moderated. Keep comments relevant to the article. Remarks containing abusive and obscene language, personal attacks of any kind or promotion will be removed and the user banned. Final decision will be at the discretion of the Taipei Times.