Tsai vows to back central camp
FOCUS: The president said that as central government resources are limited, funds should be used on policies that will create results and not just look good on paper
President Tsai Ing-wen (蔡英文) yesterday promised to provide central government resources to the "regional united governance" initiative at a "consensus camp" of leaders of the nation's three central counties and Taichung.
Leaders and high-ranking officials from Taichung, and Changhua, Nantou and Miaoli counties met in Nantou along with the president.
In her address, Tsai said the camp meant a great deal to her, as the "model of regional governance" has been one of her main policies since 2014 and a crucial component of the new administration's governance.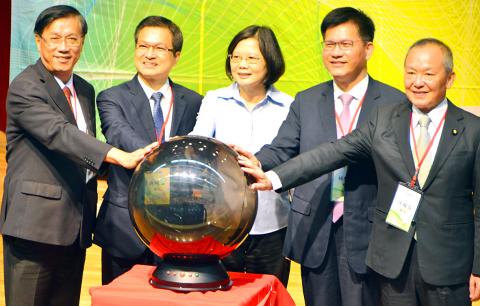 From left, Nantou County Commissioner Lin Ming-chen, Changhua County Commissioner Wei Ming-ku, President Tsai Ing-wen, Taichung Mayor Lin Chia-lung and Miaoli County Commissioner Hsu Yao-chang participate in a "consensus camp" in Nantou County yesterday.
Photo: Chen Feng-li, Taipei Times
"The [central Taiwan] governance platform was a pledge made by the Democratic Progressive Party [DPP] during the 2014 elections, and I was happy to see its establishment by Taichung Mayor Lin Chia-lung (林佳龍) and Changhua County Commissioner Wei Ming-ku (魏明谷)," she said.
With the addition of Nantou County Commissioner Lin Ming-chen (林明溱) and Miaoli County Commissioner Hsu Yao-chang (徐耀昌), both of the Chinese Nationalist Party (KMT), the model can be further improved and would be able to tackle more complex issues, Tsai added.
"This is a sign that united governance is the right direction, with cities and counties, regardless of political affiliation, sharing resources and solving problems through this platform, allowing them to push policies more effectively," she said.
Since 2014, six primary united governance meetings have taken place and achievements have been made, including a cross-city food safety platform, the union of consumer protection lawyers' groups and three bridges connecting Taichung and Changhua, which are under construction, she said.
"The essence of regional united governance is cooperation. For the people, the government is not divided into central and local, which must work together to provide better public services," Tsai said. "I am here to assure you that the central government will not be absent from regional efforts in the future."
However, Tsai said the central government's resources are limited and it is also financially strained, "so the money needs to be used where it is most needed."
"Instead of listing all the projects that look good on paper, focusing on certain issues and scoring substantial results would be a better strategy," she said.
The president said that three reforms need to be carried out for national development: improving local governance and autonomy; improving local finances by reducing the differences in the nation's financial distribution and designing a mechanism to reduce expenses while increasing income; and giving priority to cross-city governance plans and encouraging cross-city coordination.
It is only after these reforms are completed can an "effective problem-solving, need-satisfying and cooperation-based" model of governance be achieved and healthy national development supported, Tsai said.
Comments will be moderated. Keep comments relevant to the article. Remarks containing abusive and obscene language, personal attacks of any kind or promotion will be removed and the user banned. Final decision will be at the discretion of the Taipei Times.