Tsai challenges party to meet public's hopes
BACK IN THE CHAIR: The DPP's 16th chairperson urged all members to join her in pushing for reforms and to be prepared to face rigorous public scrutiny
President Tsai Ing-wen (蔡英文) was yesterday sworn in as the 16th Democratic Progressive Party (DPP) chairperson, calling for passion and calm, and averring that "change has already taken place" with the Executive Yuan's dropping of charges against the Sunflower movement activists.
In the first DPP Central Executive Committee meeting after the presidential inauguration on Friday, Tsai was sworn in as party chief in accordance with the party's constitution, which stipulates that the president is ex officio chairperson of the party.
Tsai said the DPP has again become the ruling party, but it now has different missions to complete and goals to achieve.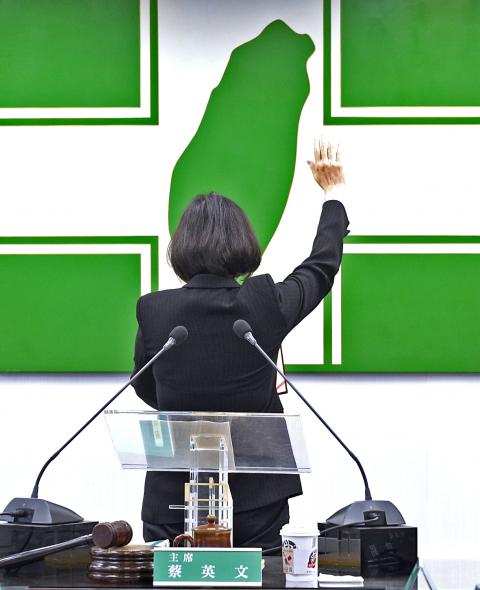 President Tsai Ing-wen yesterday raises her right hand during her swearing-in as Democratic Progressive Party chairperson at party headquarters in Taipei.
Photo: Chen Chih-chu, Taipei Times
"As all of you have seen, on May 20, I outlined the problems that Taiwan is facing to remind everybody that the public expects the DPP to solve these problems one by one at a stable pace," Tsai said.
Fervor or sensationalism will not solve problems, but rather "vision, rational thinking and effective communication through which the power of reform can be maximized and repercussions minimized," Tsai said, adding that what the people wish to see is not "another Chinese Nationalist Party (KMT) or the DPP that governed last time."
"Passion, not fervor, and calmness, not indifference, will be the governing style of the DPP, and I believe this is the governing attitude that the country needs," she said.
"We are to push for changes in this nation with this attitude in the next four years," she said.
Tsai cited as an example the Executive Yuan's dropping of charges against student activists who stormed into its compound during the Sunflower movement in 2014.
"It is because we believe that the government should have an empathetic and understanding attitude when facing the people's fury," she said.
"From now on, schools can no longer punish students for not following school regulations on uniforms and appearances, because we believe that young people should learn to take responsibility for themselves so they will be able to take responsibility for the nation and society," Tsai said.
She was referring to the recent pronouncement made by the Ministry of Education that forbids school administrations from punishing students for their attire and appearance.
"This is only the beginning. In the days that follow, we are to create more changes, as we have already started the reforms on transitional justice, the pension system and the judicial system," Tsai said.
"I would like to remind all of you that the higher the public's expectations, the stricter their examination would be. We now have to accept public's rigorous scrutiny," she said.
Comments will be moderated. Keep comments relevant to the article. Remarks containing abusive and obscene language, personal attacks of any kind or promotion will be removed and the user banned. Final decision will be at the discretion of the Taipei Times.