Initial construction of Tamsui light rail 30.95% completed
Construction of the first phase of the light rail system in New Taipei City's Tamsui District (淡水) is 30.95 percent complete, the city's Department of Rapid Transit Systems announced on Friday.
Work began on the 9.52km first phase of the project in September 2014 and is scheduled to be completed by the end of 2018.
The department also announced the Chinese names of the 14 stops to be built in the current phase of the project, but the English names have yet to be decided.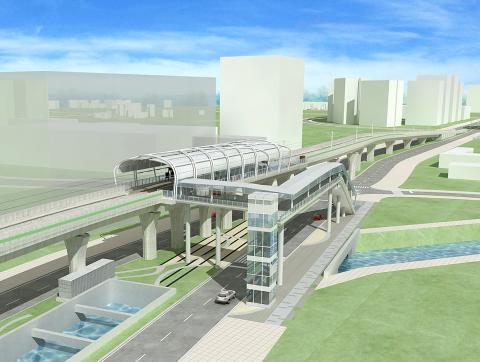 A simulation of the Tamsui Administrative Center station on the Tamhai light rail line announced by the New Taipei City Government's Department of Rapid Transit Systems on Friday.
Photo: CNA, provided by the New Taipei City Government
The tram system's first phase encompasses 14 stops on two tram lines — the Lushan (Green Mountain) Line, which has 11 stops, and the Lanhai (Blue Seaside) Line, which has three stops.
The Lushan Line starts from the Hongshulin MRT station and runs along Zhongzheng E Road, Provincial Highway No. 2, Binhai Road and Shalun Road, and ends near the Danhai New Town project.
The Lanhai Line shares the 1.21km section of track and three stops along Shalun Road with the Lushan Line before going in the other direction on Binhai Road and ending at Fisherman's Wharf.
The first phase is being built by a consortium led by the government-invested China Steel Corp.
The department said it plans to unveil the carriages to be used on the tram lines, which are being built locally by Taiwan Rolling Stock Co, by the end of this year.
The total budget for the Danhai light-rail system, including a second phase to extend the Lanhai Line along the Tamsui River between Fisherman's Wharf and the Tamsui metro station, is NT$15.3 billion (US$474.24 million), according to the department.
The tram lines are part of the development of the 1,748.7 hectare Danhai New Town, which was launched in 1992 and hopes to attract a population of 300,000 by 2036.
As of last month, the total population of Tamsui District was 163,141, according to city government statistics.
Comments will be moderated. Keep comments relevant to the article. Remarks containing abusive and obscene language, personal attacks of any kind or promotion will be removed and the user banned. Final decision will be at the discretion of the Taipei Times.