Activists call for the nationalization of universities
Tighter regulation and moves toward nationalization — not tuition hikes — are the answers to falling student numbers pushing many universities toward the fiscal brink, activists said yesterday, adding that tuition hikes would only further disadvantage poorer students, who are already often forced to pay more for less.
"Disadvantaged students are being forced to pay more for inferior education because of our failure to establish a system to weed out universities," said Taiwan Alliance for the Advancement of Youth Rights and Welfare secretary-general Yeh Da-hua (葉大華), flanked by several national legislators from across the political spectrum.
Yeh condemned the Ministry of Education's plans to address the fiscal crisis by allowing private schools to increase tuition fees while extending the time frame for students to pay off loans, saying that disadvantaged students at private schools are already charged several times the tuition fee of better-off students who are able to gain entrance into the nation's relatively elite public universities.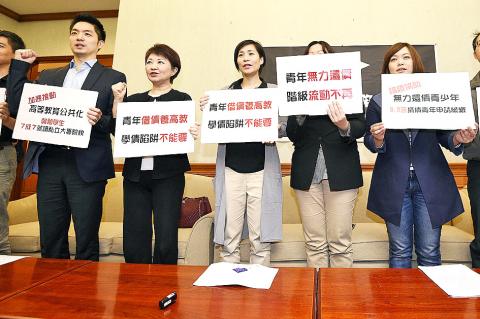 From left, legislators Chiang Wan-an and Lu Shiow-yen of the Chinese Nationalist Party (KMT), and Kawlo Iyun Pacidal of the New Power Party yesterday in Taipei attend a news conference on student debt problems.
Photo: Chen Chih-chu, Taipei Times
"The commercialization of education and unequal distribution of resources have created a situation where education actually drags down social mobility rather than helping students escape poverty," she said.
She added that students attending private schools often incur substantial debts for an inferior education.
"The ministry should take more proactive measures than just allowing the rescheduling of debts, because the real issue is how much debt students are forced to incur," Yeh said, attributing the poor quality and high cost of private institutions to lax regulation, which she said allowed schools to fabricate costs to get around fee restrictions.
While the ministry caps tuition and fees, some schools use loopholes to hit students with additional charges, she said, calling for the ministry to establish a rigorous review system.
National Association for the Promotion of Community Colleges director Hsieh Kuo-ching (謝國清) said that private high schools should also be subject to higher quality standards because of the government subsidies they have received following the elimination of high-school tuition fees.
"If you are going to subsidize, you also have to manage, including costs and quality," he said, adding that the government should implement quality control measures similar to those in place for private kindergartens, which also receive extensive government subsidies.
Chan Cheng-tao (詹政道), the director of the National Federation of Teachers Unions' social development department, said that moves toward nationalization should also include a requirement for private schools' governing boards to include public welfare and labor representatives to allow greater civic participation in the determination of school fees.
Comments will be moderated. Keep comments relevant to the article. Remarks containing abusive and obscene language, personal attacks of any kind or promotion will be removed and the user banned. Final decision will be at the discretion of the Taipei Times.