Nobel laureate criticizes energy policy, subsidies
TURNING THE TIDE: Utilizing sources of renewable energy and developing carbon capture technology are key to dealing with climate change, Lee Yuan-tseh said
Former Academia Sinica president Lee Yuan-tseh (李遠哲) yesterday said that he is against lowering electricity prices and subsidizing fossil fuels, calling on the incoming government to establish a reasonable energy pricing mechanism that reflects the health and environmental consequences of using fossil fuels.
"The government spends NT$20 billion [US$618.27 million] on fossil-fuel subsidies every year, but if the effects of global warming and air pollution are taken into consideration, the cost of subsidizing fossil fuels would be NT$1 trillion every year, or NT$43,000 per person," Lee said at a conference in Taipei about sustainable environments.
While the government said it is "taking care of" Taiwanese by lowering gasoline and power prices, the industry and energy sectors, which together use 45 percent of the nation's energy and contribute to more than 60 percent of Taiwan's carbon emissions, are the largest beneficiaries of the fossil-fuel subsidies funded by taxpayers, Lee said, adding that it is a misuse of public money.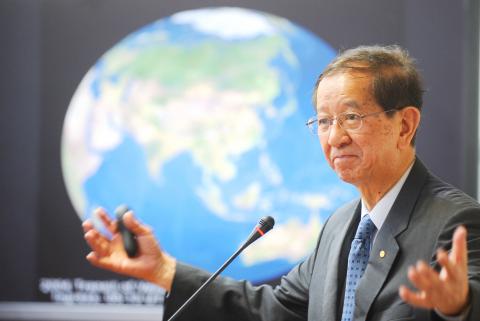 Former Academia Sinica president Lee Yuan-tseh speaks at a conference in Taipei yesterday.
Photo: Liu Hsin-de, Taipei Times
"I have issues with president-elect Tsai Ing-wen's (蔡英文) view that electricity prices would not go up in the short term. I have suggested that she should re-examine energy pricing and tax systems, but she said that her team are researching the issue. That is avoiding responsibility. An administration must propose comprehensive policies and plans to make itself useful to people," said Lee, who received the Nobel Prize in Chemistry in 1986.
While the ratio of tax revenue to GDP is about 30 percent in the US and European nations, tax revenue accounts for only 13 percent of Taiwan's GDP, which means the government has no money for education and environmental protection, he said, adding that there should be a reasonable tax system on fossil fuels and carbon emissions.
While Taiwan does not need to follow in the footsteps of developed nations like the US, which is unwilling to lower the living standards of it citizens while fighting global warming, transitioning to sources of renewable energy and developing carbon capture and storage technologies are key to dealing with global warming and air pollution, Lee said.
Combating global warming is a pressing issue, as extreme weather and large-scale disasters would ensue when global temperatures rise to 2?C above pre-industrial levels, which would be the case in 25 years if carbon dioxide levels keep rising at their current pace, he said.
The conference, with the theme of "eco-friendly Taiwan, sustainable environment," was organized by environmental groups.
Comments will be moderated. Keep comments relevant to the article. Remarks containing abusive and obscene language, personal attacks of any kind or promotion will be removed and the user banned. Final decision will be at the discretion of the Taipei Times.