TSU elects new party chairman in landslide win
'NOT SO PESSIMISTIC': The vote saw only a 26.7% turnout. There had been discussion of a threshold of 30% turnout for it to be valid, but it was rejected
Former Taiwan Solidarity Union (TSU) secretary-general Liu I-te (劉一德) was yesterday elected the new party chairman with 85 votes, defeating Taipei City Councilor Chen Chien-ming (陳建銘), who garnered 56 votes.
The voter turnout for the party's first chairmanship election in its history was only 26.7 percent.
Upon his election, Liu said that besides continuing to defend Taiwan's sovereignty, the TSU would also work on the 2018 local elections, with plans to nominate younger and more-likely-to-win candidates for local councils, adding that he hopes the TSU would win at least between 10 and 20 seats in local councils to revive the party.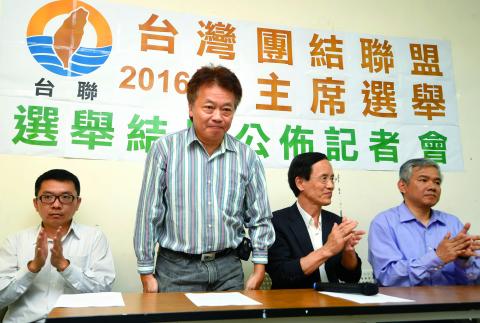 being elected chairman of the Taiwan Solidarity Union.
Photo: Fang Pin-chao, Taipei Times
The TSU won no seats in the Jan. 16 legislative elections, losing the three seats that it had held.
The New Party had only 1.4 percent of legislator-at-large votes in the 2012 election, but the number increased to more than 4 percent this year, Liu said, adding: "I am not so pessimistic about the future of smaller parties in Taiwan."
Liu said that many young people consider the TSU a party of "uncles," but he does not plan to serve as party chairman for too long and hopes to give the party leadership to younger people to create a new-generation TSU.
Chen said that there are only a little over 500 people on the TSU's list of permanent members and about 30 percent of their contact information is invalid, adding that he wanted to have the election suspended.
Liu said he and Chen had previously visited former president Lee Teng-hui (李登輝), who is considered the TSU's "spiritual leader," as the TSU was established in July 2001 after Lee called for a party to give pro-localization voters more choices.
Liu said they visited Lee to discuss whether the election result should be voided when the voter turnout is below 30 percent.
Liu said he supported the idea at the time, and made a motion to be discussed in the TSU central executive committee meeting.
However, many committee members opposed the proposal, saying if there was a threshold, candidates who lag behind might mobilize party members to be absent from voting.
"It would be strange if people who act against principles of democracy have a better opportunity of winning," Liu said, adding there are no thresholds in other major political parties in Taiwan.
Chiayi City Councilor Tsai Yung-chuan (蔡永泉), who is also a TSU central executive committee member, said that many TSU members are not paying their dues and the party has lost contact with them, so it would be hard to find them, but promised the party would improve.
Chen yesterday said he respected the results of the election.
Chen said that it would be horrible and regrettable if the electoral system causes problems for the TSU's development and called on the party to expand its supporter base, and be more transparent.
Comments will be moderated. Keep comments relevant to the article. Remarks containing abusive and obscene language, personal attacks of any kind or promotion will be removed and the user banned. Final decision will be at the discretion of the Taipei Times.