Artist pans Hello Kitty trains
MISSED CHANCE? The railway operator said that contrary to what comic artist Au Yao-hsing said, it has employed Taiwanese artists in decorating its trains and stations
Comic artist Au Yao-hsing (敖幼祥) yesterday criticized the Taiwan Railways Administration's introduction of a Hello Kitty-themed train service, calling it a mockery of local artists' talent.
He was joined by the Taipei Comic Artist Labor Union, which has lodged a protest against the railway operator's introduction of the train service featuring the popular Japanese cartoon character.
Au, who gained fame through his comic series Wulongyuan (烏龍院), was an artist-in-residence at the International City of Comics and Image program in Angouleme, France, from Nov. 9 last year to March 10 this year. He returned to Taiwan earlier this month to present a collection of works he completed during his four-month stay in the French commune, which he called "Journey in Angouleme" (安古蘭遊記).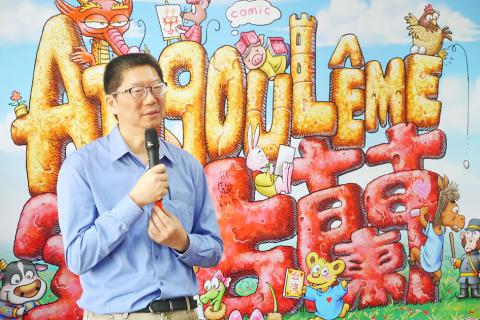 Comic artist Au Yao-hsing speaks in Hualien County yesterday, criticizing the Taiwan Railways Administration for choosing Japanese character Hello Kitty for a special themed train service.
Photo: Wang Chun-chi, Taipei Times
Au voiced his opposition to the Hello Kitty-themed trains at a press conference marking the opening of the exhibition in Hualien County.
"I boarded EVA Air's Hello Kitty airplane when I returned from France and I understand how the character is loved by everyone. However, TRA is a national agency. Why did it not give Taiwanese comic artists a chance by putting the project to a public tender and instead chose to use Hello Kitty to decorate its Taroko Express train service?" Au said.
Taiwanese would be embarrassed if their friends from overseas saw a Japanese cartoon on a TRA train, he said, adding that this shows that Taiwan has lost its style.
Asked about Au's comments, TRA Director-General Chou Yung-hui (周永暉) said he would try to meet and talk to the artist after the Tomb Sweeping holiday this week, when the agency would be busy transporting homebound travelers.
Chou said the TRA has engaged Taiwanese artists in developing themes for its train services.
Grammy-award nominated designer Xiao Qing-yang (蕭青陽) was in charge of decorating the exterior of a set of Puyuma Express trains.
The agency has also employed local artists to paint Oh Bear (喔熊), the Tourism Bureau's mascot designed to promote Taiwan as a travel destination, on one of its express trains.
Moreover, it has used the comic characters drawn by Liu Hsing-chin (劉興欽) to decorate its train station in Neiwan (內灣), Hsinchu, Chou said, adding that Au probably did not understand the situation.
He said the agency would be glad to work with Au, adding that he likes to read Au's comics.
The TRA still has four train carriages of the EMU800 commuter train model, and plans to hire local artists to decorate the train, he said.
The agency has also said that it chose Hello Kitty to draw more international tourists to Taiwan and boost publicity for its train service.
Comments will be moderated. Keep comments relevant to the article. Remarks containing abusive and obscene language, personal attacks of any kind or promotion will be removed and the user banned. Final decision will be at the discretion of the Taipei Times.