Record number of birds, species spotted in census
A record-high number of birds and avian species were recorded at the annual New Year Bird Count this year, but the numerical increase does not necessarily reflect achievements in conservation.
This year's national bird census — held from Dec. 21 last year to Jan. 10 — recorded 283,019 birds of 334 species at 154 observation areas across the nation, covering 12 percent of Taiwan's landmass, Taiwan Endemic Species Research Institute researcher Lin Da-li (林大利) said.
That compares with last year's 205,319 birds of 319 species, Lin said.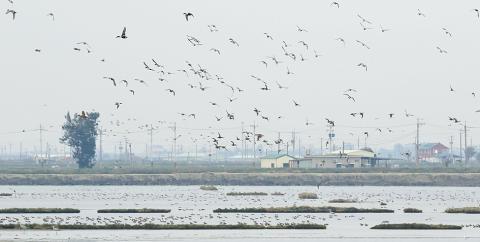 Birds fly over the wetlands of Chiayi County's Budai Township yesterday.
Photo: Wu Chin-tien, Taipei Times
All of Taiwan's 27 endemic bird species were spotted in this year's census, Lin said, adding that a total of 626 bird species have been seen in Taiwan.
Chiayi County's Budai Township (布袋) hosted 24,439 birds, making the township's famed wetlands the most populated habitat for the third consecutive year.
"Budai is a favorite bird habitat because there are plenty of abandoned salt fields and fish farms to provide shelter and food, while crabs and shrimp are abundant in intertidal zones. Rich food resources, shallow waters and tidal activities make Budai a perfect habitat for birds," he said.
A total of 116 bird species were recorded at New Taipei City's Tianliaoyang Village (田寮洋), making this piece of greenery the area with the largest variety of birds.
"However, the increase in bird population might be attributed to the increased number of bird watchers and birdwatching sites included in the census. The exact cause of population growth is pending the results of more data-gathering and analysis," Lin said.
The Saunders' gull, or the Chinese black-headed gull, is the most threatened species among the 14 gull species that overwinter in Taiwan, and the bird was chosen as this year's principal subject of the survey because it is a little-known bird, he said.
The Saunders' gull is endemic to East Asia and has a limited distribution, and its population in Taiwan decreased from 1,300 in 1992 to 24 last year, he said.
Lins said 100 Saunders' gulls were recorded in this year's bird count, a slight increase of little conservation significance.
The populations of nine wintering birds — northern pintails, common snipes, brown-throated martins, Taiwan bulbuls, black-throated bushtits, eastern yellow wagtails, Far Eastern curlews, white-eared sibias and pale thrushes — have also decreased significantly, despite more human resources invested in the census, he said.
Falls in the numbers of birds might be caused by habitat damage and reduced food sources. Bird conservation groups plan to launch a conservation program once the causes are understood.
Comments will be moderated. Keep comments relevant to the article. Remarks containing abusive and obscene language, personal attacks of any kind or promotion will be removed and the user banned. Final decision will be at the discretion of the Taipei Times.