Students admitted to NYU Abu Dhabi campus
A student from Taichung First Senior High School has been admitted to New York University Abu Dhabi Saddiyat Island campus in the United Arab Emirates (UAE) and is to receive a financial aid package of about NT$10 million (US$307,503) over the next four years.
Hsu Jui-po (徐瑞伯) said the university was a "dream university" for high-school students, adding that while the acceptance rate was only 3.7 percent, the university provided money for tuition, living expenses and insurance, as well as two round-trip tickets home every year for four years.
Coming from a single-parent family, Hsu said he often spent time in museums and art galleries, adding that he felt a sense of belonging to the locations.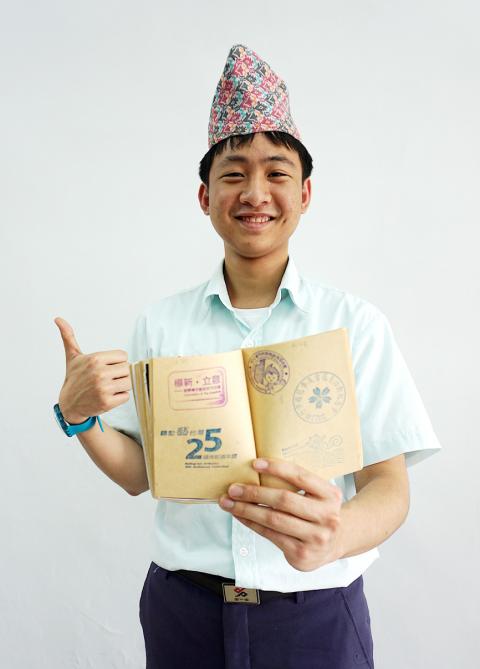 Hsu Jui-po, a student at Taichung First Senior High School who has been admitted to New York University Abu Dhabi Saddiyat Island campus in the United Arab Emirates, on Friday holds up a notebook with stamps from almost 1,000 exhibitions that he has visited in Taiwan.
Photo: Tsai Shu-yuan, Taipei Times
Hsu said art gave him satisfaction and happiness, and that he was partial to modern art, adding that through art he could see how artists observed the world and expressed their observations in their work.
Describing himself as an introvert who easily gets nervous, Hsu said he wanted to change himself and therefore joined a debate club to improve his ability to speak clearly and concisely while maintaining a flow of logical thought.
Hsu said he learned that with motivation he can achieve many things, as he had decided to go abroad for education only toward the end of his second year in high school.
Preparations took six months, from preparing his International English Language Testing System scores to taking the Scholastic Aptitude Test, as well as writing a biography and filling out application forms, Hsu said.
Asked by the university to fly to Abu Dhabi for an interview late last year, Hsu said he competed against 130 students from 60 nations to become one of the 85 students that would be admitted to the university.
Two other Taiwanese students were also admitted to the university: Peng Cheng-chien (彭正謙) from the Kang Chiao Bilingual School in New Taipei City and Huang Chao-wei (黃昭惟), who is studying in the US.
Comments will be moderated. Keep comments relevant to the article. Remarks containing abusive and obscene language, personal attacks of any kind or promotion will be removed and the user banned. Final decision will be at the discretion of the Taipei Times.