Buena Vista show canceled because of political factors
The Orquesta Buena Vista Social Club has canceled its Taipei concert due to political factors, promoter Management of New Arts (MNA) said on Monday.
The Cuban group confirmed that it has canceled the performance scheduled for last night at the National Concert Hall, the promoter said.
MNA expressed "deep regret" over the cancelation and said the 1,400 ticket holders would receive full refunds.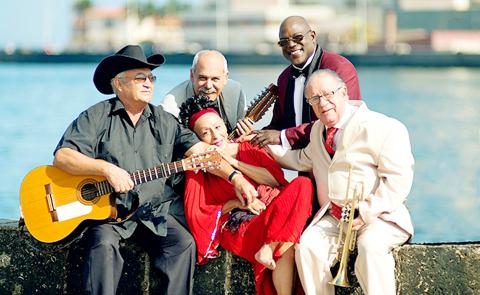 Members of the Orquesta Buena Vista Social Club pose in an undated promotional photograph.
Photo courtesy of Management of New Arts
The promoter said it had a contract with the group's Spanish representatives, but it received a letter from them recently saying that because of the change in political power in Taiwan, the group could not perform here.
It was the first time MNA has ever been forced to cancel a performance due to political factors.
The Cuban Ministry of Culture cited political and diplomatic obstacles in canceling the visit, MNA said, adding that it tried to solicit assistance through various channels to persuade the Cubans to change their minds, but to no avail.
The ministry did not elaborate on the political factors, MNA said.
The Orquesta Buena Vista Social Club began as a group of veteran Cuban musicians who were recruited by Ry Cooder to record an album in Havana to preserve their unique blend of salsa, danzon, son and bolero.
That 1997 album, Buena Vista Social Club, won a Grammy and led to a documentary by German filmmaker Wim Wenders by the same name, which was released in 1999.
The Orquesta Buena Vista Social Club includes several stars of the original album and film, as well as younger performers.
It began a worldwide farewell tour in 2014 that was supposed to wrap up last year, but continued to have bookings into this year.
The group is scheduled to appear in Hong Kong for shows from tomorrow through Saturday, in Tokyo on March 15 and March 18 and in Beirut on March 22.
Comments will be moderated. Keep comments relevant to the article. Remarks containing abusive and obscene language, personal attacks of any kind or promotion will be removed and the user banned. Final decision will be at the discretion of the Taipei Times.