New law needed to tackle military abuse cases: NPP
CLOSURE: The mother of Huang Kuo-chang, who died while on military service, said she would urge Tsai Ing-wen to include military injustice in her transitional justice policy
Amid a snowballing controversy over the military police's dealings with civilians in possession of alleged White Terror era documents, the New Power Party (NPP) yesterday called for a special law to cover cases involving victims of military injustice and the establishment of a new investigative body.
As part of the party's efforts to "shed new light on the many unsolved military deaths and the mistreatment of conscripts," NPP legislators Hung Tzu-yung (洪慈庸) and Freddy Lim (林昶佐) held a news conference in Taipei to call attention to the decades-old case of a naval conscript, Huang Kuo-chang (黃國章).
"More than 20 years ago, Huang died after allegedly being subjected to collective hazing while serving on a navy ship. However, this was not an isolated case," said Hung, whose brother, army Corporal Hung Chung-chiu (洪仲丘), died in July 2013 after alleged abuse just days before his military service was due to end.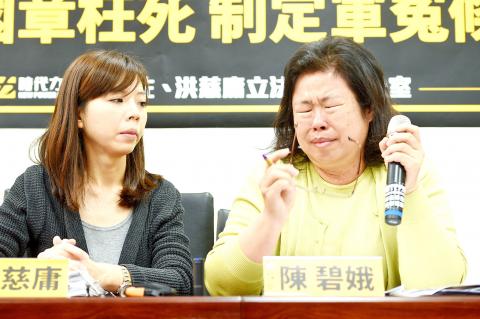 Chen Pi-e, right, the mother of navy conscript Huang Kuo-chang, who died in 1995, fights back tears at a news conference in Taipei yesterday.
Photo: Lo Pei-der, Taipei Times
Hung Tzu-yung said the NPP has received an outpouring of appeals from families of military victims, many of whom have been blocked from seeking judicial relief because of the statute of limitations on criminal prosecution and on filing claims for compensation.
"We want to use Huang's case to underscore the continued lack of channels for judicial remedies for victims of abuse or maltreatment in the military," Hung Tzu-yung said.
After he reported for duty on the destroyer Nan Yang in April 1995, Huang, a private second-class, repeatedly complained to his family that he was being threatened and physically abused by older crewmembers.
On July 9, 1995, Huang was reported missing from the destroyer while it was on patrol. Six days later, his badly bruised body was found by a Chinese fisherman off the coast of Fujian Province.
Navy prosecutors decided not to proceed with the case in 1997, but the case was reopened by the Kaohsiung District Prosecutors' Office in late 2013 after the Executive Yuan established the Military Injustice Petition Committee in response to a massive rally demanding justice for Hung Chung-chiu.
"While the Executive Yuan founded the petition committee in the wake of Hung Chung-chiu's death, only four of the 133 cases it looked into were picked up by the judiciary before the committee was disbanded in August 2014," Lim said.
The committee did not have investigative powers and was only authorized to review petitions, Lim said.
A more feasible solution would be to enact a special law dealing with cases of alleged military injustice and to establish a dedicated agency empowered with investigative authority, he said.
Soochow University associate law professor Hu Po-yen (胡博硯) told the news conference that the statute of limitations under the Criminal Code for criminal prosecution ranges from 10 to 30 years, depending on the nature and severity of the crimes.
"Victims of military injustice only have two years to file a state compensation claim. That means many cases would most likely be dismissed by the court or be past the deadline to apply for state compensation when they come to light," Hu said.
Huang's mother, Chen Pi-e (陳碧娥), also attended the news conference and said she would urge president-elect Tsai Ing-wen (蔡英文) to include cases of military injustice in her plan to push for transitional justice.
"The 228 Incident is like a massive flood in terms of the scope of damage the event caused to society, while the many cases of military injustice I have come across over two decades are more like an endless trickle of water, which is no less devastating," Chen said.
The 228 Incident refers to an anti-government uprising that began on Feb. 27, 1947, and a series of bloody purges against civilians in the subsequent months by the then-Chinese Nationalist Party (KMT) authoritarian regime.
Comments will be moderated. Keep comments relevant to the article. Remarks containing abusive and obscene language, personal attacks of any kind or promotion will be removed and the user banned. Final decision will be at the discretion of the Taipei Times.