Center to market Taiwanese music globally
LOCAL LEGEND: Ni Chung-hwa, who is known as the 'godfather of Taiwanese rock,' said that he wants to connect the nation's music industry with the rest of the world
Despite a short and controversy-ridden term, former Taipei Department of Cultural Affairs commissioner Ni Chung-hwa's (倪重華) legacy for Taiwanese popular music has remained intact.
Ni's influence on Taiwanese popular music should not be underestimated. Formerly an MTV Taiwan general manager and head of a local record label, Ni is responsible for discovering influential musicians, such as Wu Bai (伍佰) and Hoklo — commonly known as Taiwanese — rock pioneer Lim Giong (林強), leaving a permanent mark on the Taiwanese music scene.
Shortly before Ni stepped down as Taipei's cultural head and became a special project manager at the Taipei City Government, the Taipei Times caught up with Ni to discuss some of he highlights of Taiwanese pop music and the department's plans to market local popular music worldwide via the government-backed Taipei Pop Music Center.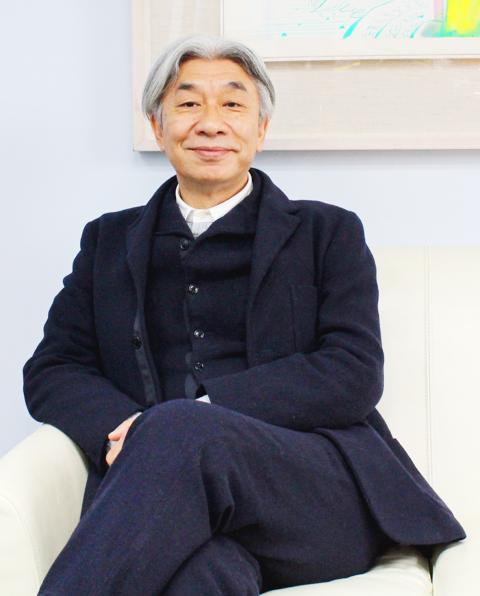 Taipei City Government special project manager Ni Chung-hwa poses for a photograph at the Taipei Department of Cultural Affairs on Jan. 13.
Photo: Sean Lin, Taipei Times
Asked how he met Wu Bai, Ni took a long pause, as though delving deep into his memories.
"I learned about Wu Bai in the early 1990s from a compilation album featuring various artists. There was a song by him called Big Building (樓仔厝), which was quite good. Later on, I took Lim to a small music festival at National Taiwan University Stadium, where I saw him [Wu Bai] singing and playing the guitar. He was really heavy and his looks were somewhat tacky back then," Ni said.
Back then, Taiwan had never had a rock singer who played the guitar onstage, and there was a special charm to Wu Bai's performance, Ni said. Therefore, when Ni, then-vice president of the Japanese music distributor Pony Canyon Inc, learned that Wu Bai was planning to release his first album, he transferred Wu Bai from his record company and funded the record.
Ni said that Wu Bai's blues-tinged style was initially met with lukewarm reception from Taiwanese and that it took the rocker two years of playing at live houses to finally achieve moderate success.
"It took him two years to go from playing shows attended by only 20 people to those attended by 1,000 people. He received a lot of training during those two years. He got to practice how to connect with his audience on a weekly basis, and his band [China Blue] became very disciplined musicians during that period," Ni said.
When asked if he would continue to promote Taiwanese rock groups as he is hailed by many as the "godfather of Taiwanese rock," Ni said that bands are no longer the trend in popular music, which he said is dominated by electronic dance music.
"Honestly, I do not know how that nickname became stuck with me," Ni said.
He said that when he was promoting rock artists, he was also promoting hip-hop artists and that among the artists he had managed, he was most proud of the Chinese-language and Hoklo hip-hop trio LA Boyz.
"If you ask me, I would say the achievement I am most proud of is giving people the first-ever Chinese-language hip-hop album," he said.
Ni said that the thing he wants to do the most is to help connect the nation's popular music industry with the world, much like what South Korean firms have done for their pop artists.
"Popular music has become a much larger industry than it once was. We used to just sell CDs, and all the personnel involved in the production of a record were the artist, songwriters and producers. Nowadays there is much more to it than that, as concerts have become the main source of income," he said.
Ni said that technical know-how for concerts is seriously wanting in the nation's pop music industry because of the way college syllabi are designed, which confine students to rudimentary concepts.
He said he hopes to close the information gap through government-backed projects, thereby fostering a pool of world class cinematographers, stage designers and sound engineers through programs related to the Taipei Pop Music Center.
Although the center's completion is scheduled for 2018, Ni said that workshops featuring international lecturers with extensive experience in the industry are already being held.
For example, an American lecturer, who worked with Michael Jackson, is training concert film directors, he said.
As the center and all related programs are directly funded by the Ministry of Cultural Affairs, the Taipei City Government had not spent any money on the workshops, he said.
He encouraged people in related sectors to sign up for the workshops and send their resume to the department for review.
Speaking about promoting music from a cultural perspective, Ni said that the composing elements of popular music are the same in every nation, because people's understanding of music genres are the same across the world, which is why it is important to create something new under the framework of existing styles.
"Creating music is a process of breaking musical styles down and rearranging the elements therein, and trying to come up with something that is truly original along the way," he said.
"If you add original ideas to something people are already familiar with, the chances are that most people will identify with your work," he added.
Ni said that with Taiwan's diverse culture, musicians should find it easy to incorporate different elements to the sounds, beats and melody of their music, but most Taiwanese artists have yet to discover elements that are uniquely Taiwanese.
Despite his resignation, Taipei Mayor Ko Wen-je (柯文哲) said Ni is still a member of the city government and that he would often need to solicit Ni's help in pushing cultural policies.
Comments will be moderated. Keep comments relevant to the article. Remarks containing abusive and obscene language, personal attacks of any kind or promotion will be removed and the user banned. Final decision will be at the discretion of the Taipei Times.