'Monkey-gourd' lantern panned
ONLINE CRITICISM: The lantern created by artist Lin Shu-min has been described as a 'monkey wearing pantyhose' and the 'bastard son of a monkey and a duck'
A large lantern commissioned by the Taipei City Government to be displayed during next month's Taipei Lantern Festival has drawn the ire of Internet users, with many calling the decoration "ugly."
Lin Shu-min (林書民), the artist who created the piece, told a news conference on Wednesday last week that the 14.2m lantern is a cross between a monkey and a gourd, which is seen in Chinese-speaking communities as an auspicious symbol for people who want to have children.
The monkey has a red face and a bright yellow body, with images of a goldfish and a peach — both auspicious symbols — painted on its belly and back, and a gourd stem sticking out from the top of its head.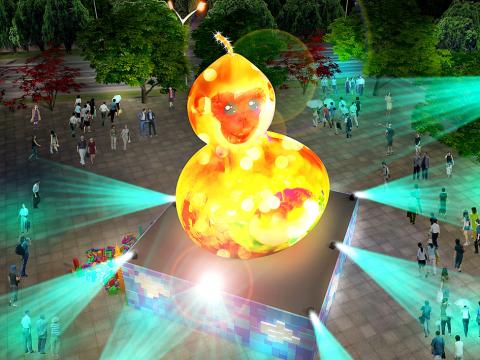 The main feature of this year's Taipei Lantern Festival, the Fu Lu Monkey, is displayed on Wednesday in Taipei.
Photo courtesy of Taipei Department of Civil Affairs
The lantern was fleshed out from bubble foam sheets and is to be lit using a technique known as "light sculpture," which would allow different patterns and animations to be projected onto its surface, Lin said.
The Taipei Department of Civil Affairs said that the lantern cost NT$9 million (US$267,459).
Netizens began criticizing the lantern soon after pictures of it were released online.
"This looks like a monkey wearing pantyhose," a user named Harry Young said on YouTube.
"Do not try to fool me. This is totally [Dutch artist Florentijn Hofman's] yellow rubber duck," a YouTube user named Hsia Kuo-jen (夏國仁) said.
The lantern looks like the "bastard son of a monkey and a duck," lawyer Lu Chiu-yuan (呂秋遠) wrote on Facebook.
Lin responded with modesty when asked by reporters to comment on the mounting criticism.
"I think that it is a great thing people are now paying more attention to issues related to arts and design," he said.
Lin said that he got the inspiration for the monkey's gourd-shaped body from the global trend of low birth rates.
The lantern can be seen at the Taipei Expo Park from Feb. 20 to Feb. 29.
It is not the first time design outsourced by the city government has come under fire from the public.
A Formosan black bear that was selected as the mascot for next year's Summer Universiade in Taipei also sparked negative reviews.
The mascot was announced last year after going through three revisions, including a design by children's show host Patty Hsu (徐千舜), which was paid for by the city government after it received the majority of votes on the city's online polling platform, i-Voting.
Hsu's design was later scrapped by the city government without explanation and the job to design a new mascot was given to Asia University professor of visual design Yu Ming-lung (游明龍), whose creation cost the city NT$2.88 million.
Comments will be moderated. Keep comments relevant to the article. Remarks containing abusive and obscene language, personal attacks of any kind or promotion will be removed and the user banned. Final decision will be at the discretion of the Taipei Times.