Colored rice fields pay homage to 'budaixi' characters
Colored rice fields that depict the shapes of well-known characters from Pili International Multimedia's budaixi (霹靂布袋戲) — or traditional Taiwanese puppet theater — have been grown by the Pingtung County Government ahead of the month-long Pingtung Tropical Agriculture Exhibition.
The exhibition, which is to start on Saturday next week and run through the end of next month, combines agriculture with art and showcases the Pili budaixi characters Su Huan-chen (素還真) and I Yeh-shu (一頁書) by using purple, white, yellow and green rice stalks.
The different colors help provide outline and visual depth, making it appear as if the figures are three-dimensional, the county government said.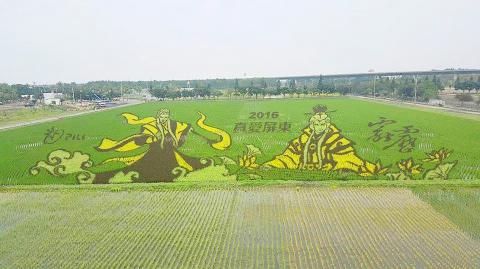 Characters from traditional Taiwanese puppet theater adorn a field as part of the 2016 Pingtung Tropical Agriculture Exhibition yesterday in Pingtung County. The exhibition opens on Saturday next week and runs until Feb. 29.
Photo: Screen grab from Facebook
Pingtung County Agriculture Department Director Yao Chih-wang (姚志旺) said the county government is still putting the finishing touches to the exhibition.
He said that with just more than a week until the exhibition launch, the rice stalks are growing nicely.
In addition to the different colored rice stalks, the county government is set to exhibit an assortment of flowers, agricultural produce and other products, Yao said.
The details of the exhibition will be announced next week, Yao said, adding that he hoped the event would be a drawcard for tourists during the Lunar New Year holiday.
The county held a similar exhibition last year, in which it grew colored rice fields in the form of characters from Line, a popular Japanese messaging application that was launched in 2011.
Those characters included Brown the bear, Cony the bunny, James and Moon.
Comments will be moderated. Keep comments relevant to the article. Remarks containing abusive and obscene language, personal attacks of any kind or promotion will be removed and the user banned. Final decision will be at the discretion of the Taipei Times.