ELECTIONS: Tsai greeted by hundreds of supporters in south
With less than two days to go to the presidential election, Democratic Progressive Party (DPP) presidential candidate Tsai Ing-wen (蔡英文) paraded through Kaohsiung, Tainan, Chiayi, Changhua and Taichung yesterday, with supporters in Dalin Township (大林), Chiayi County, most eager to show their passion and creativity.
Hundreds of people — young and old, men and women — gathered at an intersection near Dalin Elementary School yesterday way more than an hour before Tsai's scheduled arrival, holding up placards greeting Tsai with "hello president" and "female leader is the global trend," as well as large and small flags promoting Tsai and the local DPP legislative candidate, Chen Ming-wen (陳明文).
Loud cheers burst among the crowd as soon as Tsai's convoy arrived, together with continuous chants of "Tsai Ing-wen, get elected" in Hoklo (commonly known as Taiwanese) when Tsai got out of her van to climb onto an open-air jeep with bullet proof glass around it.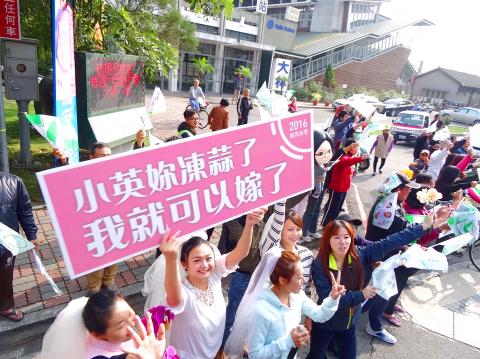 Several young women wearing wedding veils yesterday in Chiayi County hold up a placard which reads: "Tsai Ing-wen, if you win the election, I'll get married."
Photo: Su Fang-ho, Taipei Times
Tsai smiled and waved to the crowd, and the motorcade had a hard time departing, as the supporters surrounded it.
Supporters in Dalin were eager to show their passion and creativity.
When Tsai passed by the Dalin train station, she was greeted by several young women dressed in wedding gowns, one of them holding a sign that read: "if Tsai gets elected, I will get married."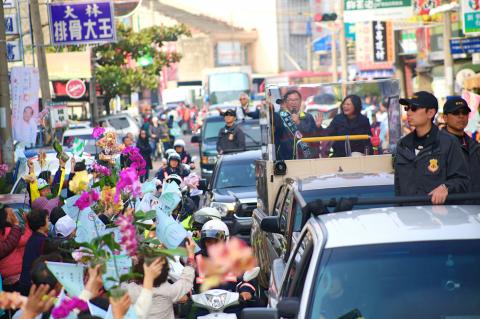 Supporters of Democratic Progressive Party presidential candidate Tsai Ing-wen hold up orchids, a local specialty, as Tsai's motorcade passes through Dalin Township, Chiayi County, yesterday.
Photo: Loa Iok-sin, Taipei Times
Going into a community named Neilin (內林), a supporter held a sign that said: "Tsai Ing-wen, you are my darling" — which is a play on words, because the pronunciation of the township name "Dalin" is similar to that of "darling."
Several villagers also held handmade lion masks for the traditional lion dance, while in other communities, supporters carried with them signs that read: "Dalin township fully supports you" made with traditional flower-patterned cloth.
In another community within the township, local farmers held up boxes of locally grown fruits, both as a gesture of welcome to Tsai and a way to promote the local produce.
Tsai ended her parade in Taichung, where a notable incident occurred.
When Tsai's motorcade passed by the Chinese Nationalist Party (KMT) headquarters in the city, KMT presidential candidate Eric Chu's (朱立倫) supporters gathered outside, chanting slogans for Chu.
Tsai smiled and waved to them in response.
Comments will be moderated. Keep comments relevant to the article. Remarks containing abusive and obscene language, personal attacks of any kind or promotion will be removed and the user banned. Final decision will be at the discretion of the Taipei Times.