Former mayor must have known of graft: Ko
Taipei Mayor Ko Wen-je (柯文哲) yesterday expressed doubt that former Taipei mayor Hau Lung-bin (郝龍斌) knew nothing about the corruption of two former Department of Rapid Transit Systems (DORTS) officials in the MeHAS City development, saying that if Hau had no knowledge of the pair's offenses, he "might as well be dead."
Ko made the remarks in an afternoon interview on Super FM, when radio show host Cheng Hung-yi (鄭弘儀) asked his opinion on the case.
The court last month gave former DORTS development branch director Kao Chia-nung (高嘉濃) a 10-year prison sentence and former DORTS section chief Wang Ming-tsang (王銘藏) a four-year sentence for influence peddling over the MeHAS City project.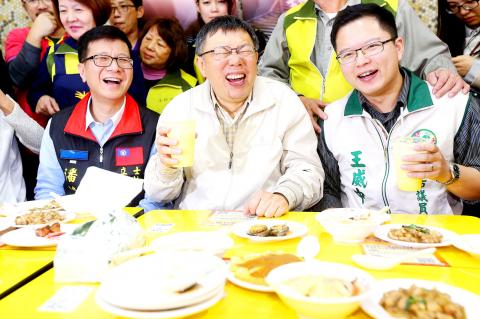 Taipei Mayor Ko Wen-je, center, laughs during an event in Taipei yesterday. Ko yesterday expressed doubt that former Taipei mayor Hau Lung-bin knew nothing about corruption in the MeHAS City development.
Photo: CNA
The development — carried out between 2007 and 2012 by Radium Life Tech Co (日勝生) in conjunction with DORTS — encompasses 9.3 hectares of homes, offices and stores in New Taipei City's Sindian District (新店) next to the Xiaobitan MRT station.
The court said Hau was not convicted since he "was deceived into believing" forged numbers embedded by the pair in a property valuation, which cost the Taipei City Government an estimated NT$590 (US$17.52 million).
No bribes were found to have been distributed in the case, but no one from Hau's administration stepped in to stop the the malpractice either, Ko said.
"What audacity this director and division chief had. Is it possible? You just think about it," Ko said.
When asked whether he believed Hau had been unaware of the corruption, Ko, responding in Hoklo (commonly known as Taiwanese) ,said: "Give me a break. If that is true, [Hau] might as well be dead."
The two former officials would be "two wretches nestling on a cold shoulder" if they voluntarily undervalued the city government's claim in the development project without anyone in Hau's administration taking bribes or putting pressure on them, Ko added.
Later yesterday in response to media queries on whether he would worry about being deceived by his subordinates given that Taipei City Councilor Wang Shih-chien (王世堅) last week accused his adviser and close aide Hung Chi-kune (洪智坤) of bribe-taking, Ko said he has ordered the city's Department of Government Ethics to investigate the allegation.
Wang alleged that Hung took an eight-figure bribe from Farglory Group (遠雄集團) in exchange for resolving issues surrounding the controversial Taipei Dome project.
Regarding the possibility of his criticism hurting Hau's chances of winning the legislative race in Keelung, Ko said his use of the Hoklo expression could have exaggerated his meaning.
He said his remark would not affect Hau's campaign too much, as he is not running in Taipei.
He refused to apologize to Hau.
"If he does not know how to respect others, he should respect his position as Taipei mayor," Hau said after hearing of Ko's remarks.
Ko's remark was aimed at manipulating the elections and he and his attorney would consider filing a lawsuit against him, Hau added.
Comments will be moderated. Keep comments relevant to the article. Remarks containing abusive and obscene language, personal attacks of any kind or promotion will be removed and the user banned. Final decision will be at the discretion of the Taipei Times.