KMT protests over DPP's banner lawsuits
The Chinese Nationalist Party (KMT) yesterday accused Democratic Progressive Party (DPP) presidential candidate Tsai Ing-wen (蔡英文) of suppressing freedom of speech, after the DPP took legal action against several of the ruling party's local branches over banners associating Tsai with US pork imports containing the controversial animal feed additive ractopamine.
"Tsai's attitude toward imports of ractopamine-laced US pork was clearly revealed by her remarks at the first televised presidential debate on Dec. 27, during which she said the nation should use Japan's and South Korea's legal standards for the leanness-enhancing feed additive as a reference," Culture and Communications Committee director-general Lin Yi-hua (林奕華) told a press conference in Taipei yesterday.
Lin said that the KMT merely printed Tsai's stance toward the issue on banners, only to see the DPP file lawsuits against the party's local branches in Yunlin, Changhua and Chiayi counties on charges of aggravated defamation and violating Article 104 of the Civil Servants Election and Recall Act (公職人員選舉罷免法).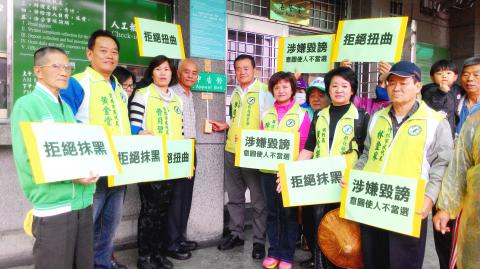 Democratic Progressive Party (DPP) Changhua chapter director Chen Chin-ting, center, yesterday files a lawsuit at the Changhua District Prosecutors' Office against the Chinese Nationalist Party (KMT) over KMT banners associating Tsai Ing-wen with US pork imports containing controversial animal feed additives.
Photo: Lin Liang-che, Taipei Times
Article 104 of the act stipulates that violators face up to five years in prison for disseminating rumors or spreading falsities by text, picture, audio tape, videotape, speech or any other method that causes a candidate to lose an election.
"Despite being only a presidential candidate, Tsai has begun to quell freedom of expression," Lin said.
Lin was referring to banners manufactured by the local branches that read: "Supporting Tsai Ing-wen is tantamount to supporting the import of US pork containing ractopamine."
The banners have been seen in various places in the three counties following the TV debate, prompting the DPP to file lawsuits over the past few days.
KMT's Yunlin County Branch director Hsu Yu-chen (許宇甄) said the DPP should have taken legal actions against its own chairperson, whose integrity has been called into questions after she took a U-turn from the party's opposition against imports of ractopamine-tainted US pork in 2012.
"Regardless, it is an honor for the KMT to be sued over its attempts to safeguard Taiwanese pig farmers and the public's food safety," Hsu said.
KMT Changhua County branch director Chen Ming-chen (陳明振) said that opening the nation's doors to US pork containing ractopamine residues would deter women from the tradition of consuming pig's kidneys after giving birth.
KMT Chiayi County Branch director Yen Wen-cheng (顏文正) said Tsai's inclination to relax the import ban on US pork with ractopamine could be evidenced by an article penned by Chiayi County Commissioner Helen Chang (張花冠) of the DPP in April last year — months before Tsai's US visit.
"Chang said in the article that the impact of importing US pork on the sales of domestically farmed pork was marginal, remarks that are apparently aimed at keeping in line with Tsai's policies," Yen said.
KMT Culture and Communications Committee deputy director-general Lee Ming-hsien (李明賢) said that since National Taiwan University College of Public Health associate professor Wu Kun-yuh (吳焜裕), a food safety expert, is on the top of the DPP's list of legislator-at-large candidates, he should also say something about Tsai's flip-flopping on the issue.
Comments will be moderated. Keep comments relevant to the article. Remarks containing abusive and obscene language, personal attacks of any kind or promotion will be removed and the user banned. Final decision will be at the discretion of the Taipei Times.