Farmers protest lifting of ban on Chinese products
The Taiwan Solidarity Union (TSU) yesterday led about 100 farmers in a rally in front of the Council of Agriculture's headquarters in Taipei to protest a proposal to lift a ban on selected Chinese agricultural imports as part of a cross-strait trade in goods agreement under negotiation.
The protesters, mostly farmers from Hsinchu and Yilan counties, threw baskets of cabbage at the council buildings, which were heavily guarded by police, shouting: "Reject the trade in goods agreement. Protect farmers and agriculture."
TSU Legislator Lai Chen-chang (賴振昌) said the Ministry of Economic Affairs promised to protect Taiwan's agricultural industry from Chinese imports and would not sacrifice farmers' interests in negotiations with China, but on Dec. 28 last year it went back on its promise and announced that it would be necessary to deregulate 90 percent of banned Chinese agricultural and fishery products, while tariffs on those products would be eliminated in 15 years.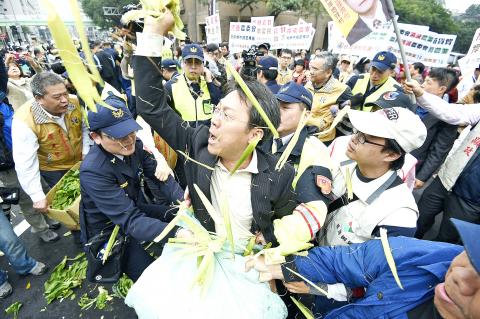 Farmers clash with police at a demonstration outside the Council of Agriculture's headquarters in Taipei yesterday against the proposed lifting of a ban on Chinese agricultural products, which they say will harm their interests.
Photo: Chen Chih-chu, Taipei Times
"The policy U-turn was President Ma Ying-jeou's (馬英九) attempt to build a relationship with China by sacrificing Taiwan's agriculture and farmers. How can the public tolerate such a deceitful government?" Lai said.
Imports of 615 Chinese agricultural and fishery products are banned to protect Taiwan's industries.
Chilly Chen (陳峻涵), office director of the 908 Taiwan Republic Campaign, said lifting the ban on Chinese products endangers farmers' livelihoods and puts national security at risk, as cheap Chinese imports, if allowed into the nation, would force farmers to let land lie fallow and lower Taiwan's food self-sufficiency — which is about 30 percent — allowing Beijing to control Taiwan's food supply.
TSU organization department deputy director Lee Cho-han (李卓翰) said that the party opposes any cross-strait negotiations prior to the passage of a proposed cross-strait agreement oversight bill, and that the Ma administration should not push for the deregulation just months before it leaves office, but should instead leave the matter to the next administration.
The ministry's proposal to lift a ban on 90 percent of Chinese products is not focused solely on the agricultural sector, but is a combined goal for the agricultural and industrial sectors, Council Department of International Affairs Deputy Director Hsiao Tung-chung (蕭柊瓊) said, adding that the ministry said there would be more liberalization commitments for the industrial sector.
China is not asking for the total elimination of tariffs, but rather equal trade terms with those Taiwan accords to other WTO members, Hsiao said, adding that the council would make sure that Taiwan's agriculture is protected, while it asks China to eliminate taxes on Taiwanese orchids and aquaculture exports.
Comments will be moderated. Keep comments relevant to the article. Remarks containing abusive and obscene language, personal attacks of any kind or promotion will be removed and the user banned. Final decision will be at the discretion of the Taipei Times.