ELECTIONS: Candidates spar on economic growth, wages
The three contenders in the Jan. 16 presidential election faced off in the second and final televised debate yesterday.
Chinese Nationalist Party (KMT) presidential candidate Eric Chu (朱立倫) went on the offensive during his opening remarks, saying that the presidential election is a choice "between stability or openness and recklessness or a closed-door policy."
In the remarks, Chu challenged Democratic Progressive Party (DPP) presidential candidate Tsai Ing-wen (蔡英文) on issues such as her stance on cross-strait ties, her attitude toward an all-volunteer military, the way she would provide for the nation's energy needs and the import of US pork products.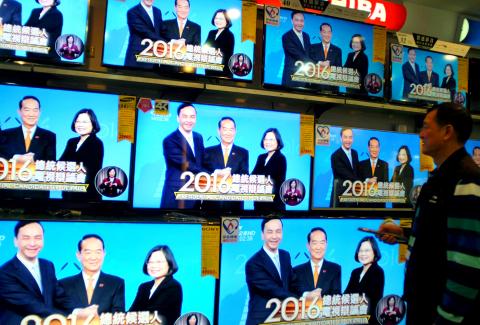 A man watches the second and final debate of the three presidential candidates from television sets at a local store in New Taipei City's Sindian District yesterday.
Photo: AFP
Chu asked voters not to "vent your anger on Taiwan" by electing Tsai just because they are dissatisfied with the state of the nation, President Ma Ying-jeou (馬英九) or himself.
In her opening remarks, Tsai said the government had been insensitive to the voices of the public and urged voters to punish what she called a poorly performing government.
Ma has led the nation for eight years, but what "the public has felt most about his administration has been the huge distance between the people and the government," she said.
Meanwhile, People First Party presidential candidate James Soong (宋楚瑜) in his opening remarks said that Taiwan is in dire straits after 16 years under KMT and DPP administrations, and that if elected, he would get the economy moving again.
One of Soong's policy proposals — the Trident plan — would see the creation of three Singapore-style free-trade zones in northern, central and southern Taiwan.
Soong also advocated dividing the nation into six economic zones: Taipei, New Taipei City and Keelung; Taoyuan, Hsinchu and Miaoli; Taichung, Changhua and Nantou; Yunlin, Chiayi and Tainan; Kaohsiung, Pingtung and eastern Taiwan — and maximizing each area's strengths to stimulate the nation's overall economic development.
In her concluding remarks, Tsai vowed to help the nation meet its future challenges by promoting solidarity.
Tsai began her concluding remarks by drawing a comparison between how the younger and the older generations feel about Taiwan.
Citing as an example late Taiwanese composer Tyzen Hsiao (蕭泰然), who was forced into exile by the KMT in 1980 for composing the March of Democracy and then was only able to look down in tears from an aircraft whenever he flew across the nation, Tsai said: "It is poignant that it was so difficult for him just to catch a glimpse of Taiwan."
She then mentioned the 2013 documentary Beyond Beauty: Taiwan From Above, which was compiled from more than 400 hours of video footage shot from a helicopter — and showed both the nation's natural beauty and man-made damage to the environment.
"The younger generation do not know that the pioneers of Taiwanese democracy used to look at Taiwan from this angle, too. Due to their love for their homeland, they were filled with nostalgia, while the younger generations are full of angst," Tsai said. "Be it nostalgia or angst, one sentiment has bonded people throughout generations, and that is their love for this land."
Tsai vowed to promote solidarity when pushing for reforms if elected, adding that she would establish a platform to facilitate communication between the ruling and opposition parties for reform at the national level.
Aside from seeking to enhance the performance of industries and help them regain momentum by inviting private-sector business owners to take part in an initiative to reinvent their businesses, she also pledged to establish a communication mechanism to boost mutual understanding and exchanges between Taiwan and China — and also with other nations.
Chu began his concluding remarks by responding to Tsai's criticism that his proposal to raise the minimum wage would not be enough to fix the nation's economy as he hoped.
"You spoke too highly of me when you said that I would win a Nobel Prize if economic growth could be achieved by raising wages," Chu said. "In 2014, seven Nobel laureates wrote a letter to US President Barack Obama and met him at the White House to suggest that he propel economic growth by raising wages."
Chu then began to reminisce about his life growing up in the 1960s, saying he had often walked around barefooted as a child and carried his sneakers on his shoulders because that was how much he cherished his shoes.
He said that, as a professor and a father of two, he was content with his life, but his penchant for fighting for justice had driven him to campaign for the presidency.
Touting his experience as a legislator, Taoyuan county commissioner, and New Taipei City mayor, Chu vowed to lead people in the quest for a "warm and confident Taiwan."
Soong said in his concluding remarks that his political career can be summed up as: "Out of martial law and into democracy."
Referencing his experience as a Taiwan provincial governor, Soong said he would strive to help Taiwanese "restore their pride," if elected.
Additional reporting by CNA
Comments will be moderated. Keep comments relevant to the article. Remarks containing abusive and obscene language, personal attacks of any kind or promotion will be removed and the user banned. Final decision will be at the discretion of the Taipei Times.