Academics back Tsai and Chen
MAXIMUM FREEDOM: The DPP's presidential candidate said that if elected, she would allow academics to be critical of the government without fear of political persecution
Democratic Progressive Party (DPP) presidential candidate Tsai Ing-wen (蔡英文) and DPP vice-presidential candidate Chen Chien-jen (陳建仁) yesterday vowed to keep government intervention out of academia if elected to office, as the pair took part in the inauguration of an academic supporters' club in Taipei.
Initiated by 1,688 Taiwanese academics across the world, the Tsai and Chen academic supporters' club was officially inaugurated at a ceremony in Taipei, attended by more than 300 people.
In a speech to the academics, Tsai said that both herself and Chen have worked in the academic field, and they know how important it is to protect academic independence and freedom if elected, since she has seen many academics prosecuted for holding different political views from the government, only to be found not guilty by the end.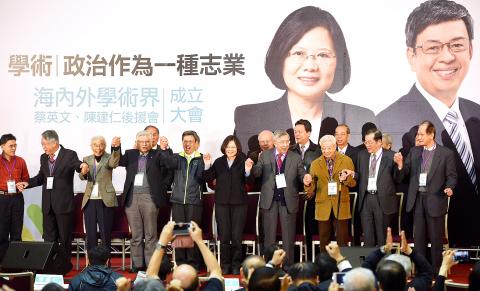 Democratic Progressive Party presidential candidate Tsai Ing-wen, front, fifth left, and vice presidential candidate Chen Chien-jen, fourth left, yesterday hold hands with academic supporters from Taiwan and abroad in Taipei.
Photo: Lo Pei-der, Taipei Times
"Therefore I guarantee you that, I will not allow such things to happen anymore," Tsai said. "My government will be one that gives maximum freedom and independence to academics, so that all of you may focus on doing your research. You may monitor the government in the harshest way and give us your teachings, without having to fear that you will be politically persecuted."
Tsai also said that when selecting government officials, professionalism and ability — not political affiliation — would be the only consideration.
In a statement, the academics said that they chose to give their support to Tsai because "over the past seven-and-a-half years, the Chinese Nationalist Party [KMT] government has taken Taiwan into the double crises of a setback in democracy and recession in the economy."
"Moreover, the economic development strategy of over-reliance on China has sacrificed the nation's independence and dignity, leading to the hollowing out of industries, downgrading of Taiwan in the international community, slowing down of economic development and widening of the gap between the wealthy and the poor," the statement said. "The people have lost their perspective, they cannot see a direction for the future, and they are trapped in collective anxiety."
Su Yu Mei-chin (蘇余美津), wife of the late National Taiwan University law professor Su Chun-hsiung (蘇俊雄), who was one of Tsai's teachers, said that Tsai has been a mature person who has always kept a low key.
"She [Tsai] has led the DPP out of the control by faction leaders within the party, and solved the DPP's indebtedness," Su Yu said. "My husband and I are both proud of having such a student, and we expect her to become Taiwan's Angela Merkel [German Chancellor], to lead Taiwan forward."
The club was first proposed by former minister of health Lee Ming-liang (李明亮), with endorsements from academics not only in Taiwan, but also from the US, Canada, the UK, Australia, New Zealand, Japan and South Korea.
Notably, TransWorld University President Hsu Shu-hsiang (許舒翔), who is former KMT legislator Hsu Shu-po's (許舒博) brother and former KMT Yunlin County commissioner Hsu Wen-chih's (許文志) son, were among those who signed the endorsement.
Comments will be moderated. Keep comments relevant to the article. Remarks containing abusive and obscene language, personal attacks of any kind or promotion will be removed and the user banned. Final decision will be at the discretion of the Taipei Times.