Writer Huang Chun-ming to close cafe, literary salon
FOND FAREWELL: Writer Liao Yu-hui said that she plans to attend a closing ceremony at the Red Brick House cafe tomorrow, along with 20 other writers
Writer Huang Chun-ming (黃春明) has decided to shut down the Red Brick House cafe and literary salon in Yilan County after the Yilan County Council slashed funds earmarked for subsidizing the cafe in the next fiscal year over allegations that the Yilan County Government was lining Huang's pockets.
Visiting the cafe for the last time on Monday, before it officially closes tomorrow, Huang said he intended to wait for the county government to settle the issue with the council.
Huang, who published his first novel in 1956 and has since established himself as a major proponent of Taiwan's "nativist literature" movement, said he hopes to take a rest and continue working on The Season of the Longan (龍眼的季節), a long novel that features himself as the main character.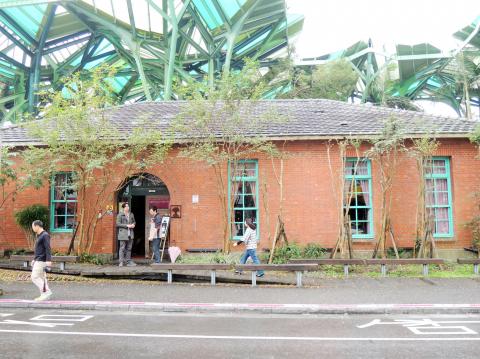 A woman approaches the Red Brick House cafe, operated by writer Huang Chun-ming, in Yilan County on Sunday.
Photo: Chiang Chih-hsiung, Taipei Times
Huang said he conceived the idea of the novel five decades ago, adding that it is only half-finished and that he hopes to complete it soon.
He said he plans to stage a closing ceremony tomorrow, including a speech recounting the cafe's history over the past three years, adding that he hopes to overcome a sense of sadness about the closure by telling jokes and stories.
"I feel grateful for the amount of support I have received over the incident," he said, adding that the cafe would always have a place in his heart.
Huang said he has received support from friends and colleagues within the arts and culture industries, adding that such people had voiced regrets over the cafe's closure and called for its preservation.
Writer Liao Yu-hui (廖玉蕙) said that culture should not be subject to political oppression, adding that she, along with National Cheng Chi University professor Chen Fang-ming (陳芳明) and 20 other writers, would be attending a closing ceremony at the cafe.
Netizens have started an online petition in hopes of preserving the cafe and enabling Huang to continue running the salon.
The county government said that management of the Red Brick House cafe has been handed over to the Yilan County Cultural Affairs Bureau, adding that the cafe would undergo maintenance, including the development of space for exhibits and displays.
Huang is to be consulted over all maintenance proposals, the county government said, adding that once it had reached a consensus with the county council, it would again approach Huang with a commission offer.
All subsidy funding is to be provided via application to central government subsidies or from fundraising in the private sector, the county government said.
Comments will be moderated. Keep comments relevant to the article. Remarks containing abusive and obscene language, personal attacks of any kind or promotion will be removed and the user banned. Final decision will be at the discretion of the Taipei Times.