INTERVIEW: Strict regulations needed to prevent air pollution
Concern over the concentration of fine particulate matter measuring 25 micrometers in diameter or smaller (PM2.5) has taken center stage in protests targeting industrial polluters, particularly Formosa Plastics Group's naphtha cracker in Yunlin County. National Taiwan University College of Public Health associate dean Chan Chang-chuan, who has conducted epidemiological studies on the cracker's effects on the health of local residents, shared his views on the issue of pollution in an interview with Chen Wei-han of the 'Taipei Times'
Taipei Times: What are the health risks associated with PM2.5? Which activity contributes the most to PM2.5 emissions? What are the health risks posed by coal-fired power plants and Formosa Plastics Group's naphtha cracker in Yunlin?
Chan Chang-chuan (詹長權): The most obvious health effect of PM2.5 exposure is increased risk of cardiovascular diseases, strokes, lung cancer, chronic lung diseases and central nervous system disorders. Children exposed to PM2.5 could develop asthma and respiratory diseases. According to the studies we have conducted, the health effects of the naphtha cracker can be observed most clearly among residents living within 10km of the compound, where the occurrence of cancer has tripled.
Coal-fired power plants are causing increasingly severe cases of PM2.5 pollution, as coal emits a large amount of PM2.5 when burned. Most major power plants in the nation run on coal, including the Mailiao Power Plant inside the naphtha cracker complex, as well as most cogeneration power plants that have come online in the past few years. Academics estimate that the naphtha cracker and the Taichung Power Plant — the world's largest coal-fired plant — are the largest sources of PM2.5 in Taiwan, which contribute to air pollution-related deaths and diseases.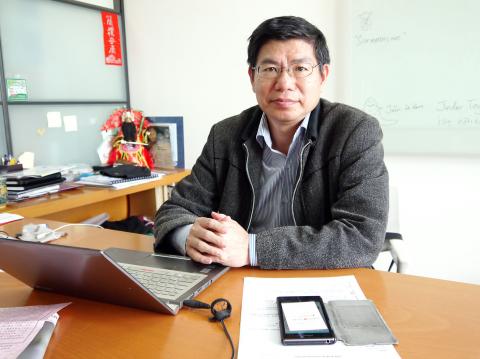 National Taiwan University public health professor Chan Chang-chuan poses for a photograph during an interview on Dec. 10 in Taipei.
Photo: Chen Wei-han, Taipei Times
The Environmental Protection Administration's (EPA) claim that vehicle emissions are the largest PM2.5 contributor is wrong, as there is not much traffic in central and southern Taiwan, but pollution there is more severe than it is in the north.
The EPA based its claim on the pollution pattern in Taipei, where there are no coal-fired plants, but heavy traffic. The agency has to abandon its Taipei-centric view to have a real grasp of air pollution in central and southern Taiwan.
TT: Are regulations regarding the naphtha cracker adequate? What can be done in terms of public health measures? What should the government do?
Chan: I have conducted long-term studies at the naphtha cracker complex and have seen local air quality deteriorate at an alarming rate, affecting residents' health. The occurrence of allergies among children has increased by between 250 percent and 350 percent, while cancer occurrence rates have tripled.
Such severe environmental hazards should have spurred government intervention in a normal nation. However, neither the central government nor local governments have done enough to stop pollution, while projects to expand the naphtha cracker are under review, despite air pollution problems, which is simply wrong. No expansion should be allowed until pollution has abated.
Students at Ciaotou Elementary School's Syucuo (許厝) branch, 900m from the naphtha cracker, should be relocated, as tests showed that students' urine contained high levels of a metabolite of vinyl chloride monomer, which is a known carcinogen. It does not make sense to have children study there, exposing them to health hazards.
The naphtha cracker's operations should be partially suspended to reduce toxic emissions until the school near the compound is relocated. However, while a school can be relocated, a community cannot. A civilized government would have protected people's well-being and their basic rights, and it should compensate the damages that locals have suffered by being put at risk of pollution.
TT: Can you elaborate on your previous remarks, in which you called the government's air pollution control standards as "legal murder"? What are the reasonable limits of air pollutant emissions?
Chan: We know what health risks are associated with which pollutants and at what concentration levels. However, that knowledge does not find its way into legal emission standards. The government's emission limits are too high, allowing industries to easily meet the legal standards with little cost, even if their emissions have reached hazardous levels. It is the public who bears the consequence, especially people in central and southern Taiwan. That is what I meant by legal murder.
For example, the EPA's annual concentration level of PM2.5 is set at 15 micrograms per cubic meter, which is greater than the WHO's limit of 10 microgram per cubic meter. The US government has established an hourly air quality standard for sulfur dioxide capped at 75 parts per billion (ppb) to protect the public, while the EPA set the limit at 250 ppb.
How can the government reduce air pollution if it is not willing to impose reasonable and stringent measures for pollution control? The government should revise emission standards and relevant laws.
I do not know why it has not already done that. The government knows perfectly well who is polluting the environment.
TT: What sort of pollution control measures would you recommend the government to adopt? Are demands by protesters to strengthen factory emission controls and ban the burning of petroleum coke and coal possible? Is the EPA's five-year clean air program centered around replacing diesel vehicles an effective means to combat PM2.5 pollution?
Chan: Abandoning coal is a major topic driving international discussions aimed at reducing the emission of greenhouse gases. The government should set a timetable to phase out all facilities that run on coal, which, I think, is the most important and most urgent step in reducing PM2.5 pollution.
The EPA has set a goal to lower the annual PM2.5 concentration to less than 15 micrograms per cubic meter by 2020, but that cannot be achieved by 2040 if Taiwan continues at its current rules of industrial production and energy generation. The EPA's goal could only be achieved if all the coal-fired plants were shuttered.
The EPA and the Ministry of Economic Affairs have said that abandoning coal would adversely affect the nation's power supply, as coal-fired power plants generate more than 40 percent of the nation's electricity, but pollution control should come before economic growth.
The UK plans to shutter all coal-fired plants by 2023, so phasing out coal is not impossible, it is only a matter of determination. There are plenty of alternative energy sources and developing them is not necessarily more expensive than burning coal.
Phasing out diesel vehicles should also be the government's top priority in reducing the transport sector's contribution to PM2.5 pollution. Efforts to reduce vehicle emissions have not been very effective.
Simply banning diesel vehicles and two-stroke scooters would be easier and more effective, which could be achieved by passing legislation and would not require any funding.
I do not understand why the government chooses to allocate funds to replace outdated vehicles, because the problem would remain if diesel vehicles are still allowed on the road.
TT: Many local governments have asked the central government to establish regional air control zones to impose an emissions cap to curb air pollution. Would that be effective?
Chan: The idea of an emissions cap would be useless if it is based on the overestimation of the environment's capacity to absorb pollution. The EPA's emissions cap is based on an earlier estimation model, which does not include PM2.5 and other pollutants that have been found to have adverse affects on health. Emission standards were also set according to earlier international standards without considering local epidemiological studies.
The pollution in central Taiwan has far exceeded the environment's carrying capacity and it will only worsen and create more health problems if the government continues with loose emissions standards, regardless of the environment's actual capacity.
The government must not accept emissions data submitted by industries without questioning them, because we have seen in the Volkswagen group's emissions scandal that even such a large company can resort to cheating. Most companies' emissions data are estimates, so any pollution reduction program not based on actual emissions figures cannot be accepted.
The government must have the will to verify companies' emissions data and local authority's pollution control plans to have a real understanding of pollution problems.
Comments will be moderated. Keep comments relevant to the article. Remarks containing abusive and obscene language, personal attacks of any kind or promotion will be removed and the user banned. Final decision will be at the discretion of the Taipei Times.