Taiwanese team first to band near-mythical bird
A Taiwanese research team banded a juvenile Chinese crested tern (Thalasseus bernsteini) in July, hoping to track its migration and learn more about the "mythical" bird that roosts in three groups of islands off the southeastern coast of China from May to August, a Forestry Bureau official said.
It was the first-ever successful banding of a Chinese crested tern, Forestry Bureau conservation official Hsia Jung-sheng (夏榮生) said.
The rare species nests in Taiwan's Matsu (馬祖), as well as Jiushan and Wuzhishan islands off China's Zhejiang Province from May to August and locals consider it a summer migratory bird.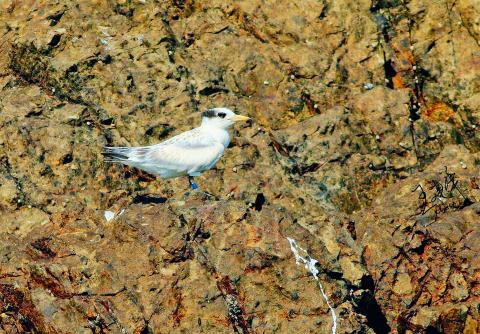 A Chinese crested tern is pictured in the wild in an undated photograph.
Photo: Courtesy of the Forestry Bureau
The population of the bird was estimated at less than 50 in the International Union for Conservation of Nature Red List in 2000 and it is categorized as critically endangered, Hsia said.
Nature photographer Liang Chieh-te (梁皆得) happened to photograph the Chinese crested terns in Matsu while filming his documentary Fly, Kite Fly (老鷹想飛) in 2000.
To conserve the species, the Forestry Bureau and the Lienchiang County Government commissioned a research team led by National Taiwan University School of Forestry and Resource Conservation professor Yuan Hsiao-wei (袁孝維) and the Wild Bird Society of Taipei to conduct studies to understand the birds' behavior.
Taiwanese and Chinese research teams recorded 99 Chinese crested terns in the three island groups from May to August, a record high for the rare bird, Hsia said.
The researchers banded the juvenile in mid-July, saw it again in early August and estimated that it had left the islands in late August, Hsia said.
Comments will be moderated. Keep comments relevant to the article. Remarks containing abusive and obscene language, personal attacks of any kind or promotion will be removed and the user banned. Final decision will be at the discretion of the Taipei Times.