Typhoon-tilted mailboxes rank top tourist attraction
The two leaning Chunghwa Post mailboxes have been ranked as the nation's most popular tourist attraction this year, according to Internet service provider Yahoo-Kimo.
The company said that it had selected the top 10 tourist attractions in Taiwan based on the most searched keywords on the portal this year.
The two mailboxes, on Taipei's Longjiang Road (龍江路), became tilted after being hit by a shop sign during Typhoon Soudelor in August. Drawn by their adorable post-typhoon design, hundreds of people visited the site to take pictures with the mailboxes.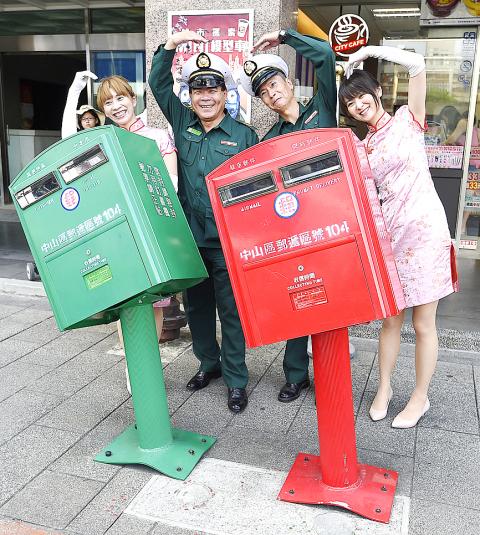 Chunghwa Post Co staff on Sept. 23 strike poses to be used on postcards featuring two Taipei mailboxes battered during Typhoon Soudelor.
Photo: Chen Chih-chu, Taipei Times
The Rainbow Church in Kaohsiung's Chijing (旗津) and Fushoushan Farm in Taichung were ranked No. 2 and No. 3 respectively.
Those ranked between No. 4 and No. 10 were Totoro Bus Stops in Tainan, Keelung and Taitung; Rollin Farm in Taichung; Chimei Museum in Tainan; Ping Seto glass suspension bridge in Nantou; Dongshih Forest Garden in Taichung; Colorful Rice Paddies in Miaoli; and Wangyou Forest in Nantou.
Meanwhile, the Rainbow Church and Chimei Museum are also two of the most popular locations for newlyweds to take wedding photos.
The Web service provider said the rainbow church attracted couples with the installation art work painted in the colors of the rainbow, as well as the view of the sea.
The Chimei Museum drew visitors with its exterior of a European palace, it added.
Tourist attractions reminding people of a Japanese animation of Alice in Wonderland also made it on to this year's list, Yahoo-Kimo said.
The four Totoro Bus Stops replicate the setting of the Japanese movie with three-dimensional painted works. The suspension bridge features a glass-bottomed walkway, and caps visitor numbers at 1,500 on weekdays and 2,500 on holidays.
Comments will be moderated. Keep comments relevant to the article. Remarks containing abusive and obscene language, personal attacks of any kind or promotion will be removed and the user banned. Final decision will be at the discretion of the Taipei Times.