Motorcyclists demand right to highway trial runs
More than 1,500 motorcyclists gathered in front of the Ministry of Transportation and Communications yesterday to call on the ministry to abide by the Legislative Yuan's amendments and hold trial runs for motorcycles on highways.
The protesters, who own motorcycles with engine volumes of 550cc or higher, chanted "return our rights of way" after gathering in front of the ministry and accompanied the chants with the occasional revving of engines or blasting of horns.
Taiwan National Motorcycles Management Industry Advancement Association chairperson Chen Li-yun (陳豊運) said the Legislative Yuan had passed an amendment four years ago allowing a trial run for motorcycles with an engine displacement of 550cc or above to use fast lanes on highways, but the ministry had only allowed motorcyclists to use a 5.6km strip of National Highway No. 3A going in and out of Taipei.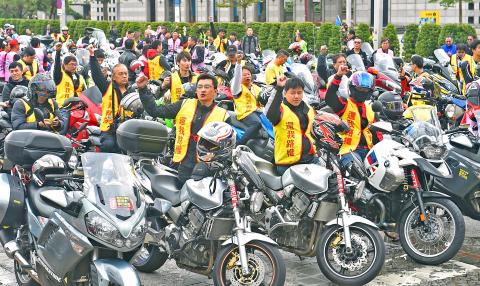 Motorcyclists protest outside the Ministry of Transportation and Communications building in Taipei yesterday.
Photo: Chang Chia-ming, Taipei Times
Taiwan has more than 1,000km of highways, but over the past four years the ministry has not started trial runs for motorcyclists on national highways No. 4, No. 6 and No. 8, Chen said.
The ministry continually put off a nationwide trial run citing unfavorable polls, and motorcyclists have grown tired of waiting, he said, adding that if the government does not give a favorable response, motorcyclists are going to implement trial-runs themselves and ride along the national highways.
If riders implemented the trials themselves, between 400 to 500 motorcycles nationwide would be using the highways, Chen said.
While the Legislative Yuan passed the amendment allowing the ministry to hold trial runs for motorcycles on highways, the ministry is responsible for deciding which segments of highways the trials are to be held on, National Freeway Bureau Deputy Director-General Wu Mu-fu (吳木富) said.
National Highway No. 3A is still the only section of highway where motorcycles are allowed and the process is still under assessment, Wu said, adding that polls showed 60 percent of motorists responded negatively to the idea of allowing motorcycles to use highways.
Experts and local governments also oppose the practice, Wu said, adding that the ministry hopes motorcycle enthusiasts refrain from rash actions that could negatively affect the public's perception of them.
Comments will be moderated. Keep comments relevant to the article. Remarks containing abusive and obscene language, personal attacks of any kind or promotion will be removed and the user banned. Final decision will be at the discretion of the Taipei Times.