Vice presidential candidate Wang defends KMT term
KMT vice presidential candidate Jennifer Wang (王如玄) yesterday said that the seeming lack of accomplishments under the Chinese Nationalist Party (KMT) over the past eight years is not because of a lack of actual accomplishments, but because the party is reflective and strives to do better.
"The KMT is a party that does things firmly and does not boast of its accomplishments," she said, adding that the party is building its confidence and stepping forward to tell people how much it had achieved.
Wang made the remarks at an event hosted by a support group for KMT presidential candidate Eric Chu (朱立倫) and KMT Legislator Ting Shou-chung (丁守中) in Taipei's Beitou District (北投).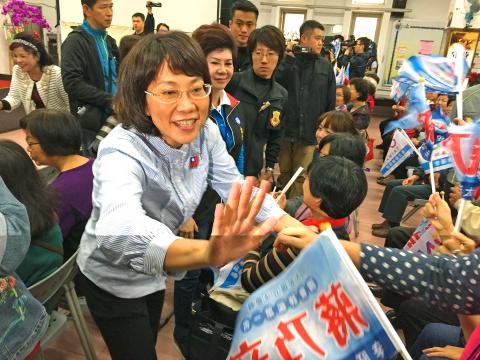 Chinese Nationalist Party (KMT) vice presidential candidate Jennifer Wang high fives a supporter at a campaign event in Taipei yesterday.
Photo: CNA
Wang said she "found it hard to come to terms with a smear campaign directed toward [her] due to her status as a 'new politician,'" referring to the exposure of her purchases of real estate, which Democratic Progressive Party (DPP) Legislator Tuan Yi-kang (段宜康) accused her of having profited from in speculative purchasing of housin units transformed from former military dependents housing.
Wang spoke of her contributions and participation in movements for women's and labor rights over the past 30 years and said she received much more from devoting herself to social welfare than she put in, adding that she had attended almost every session to pass amendments regarding women's rights over the past three decades.
She went on to criticize the DPP, saying that despite its vocal support of workers and their "love for Taiwan," between 2000 and 2008 when the DPP was in power, it only raised basic wages once, and that was before an election.
"Since 2008 the KMT administration has raised minimum wages five times and increased minimum hourly wages from NT$95 to NT$120, which was almost a 26 percent rise," she said.
The average annual wage has increased from NT$17,280 to NT$28,000, a rise of nearly 16 percent, Wang said, adding that when comparing the two parties, the KMT was the one who truly took care of workers and the disadvantaged.
"When Chariman Chu asked me to be his campaign partner, he said that there were two main things that need to happen for Taiwan's development. The first is a focus on economy and the second is that money made from such efforts be distributed to Taiwanese," Wang said.
Wang said that the economy is Chu's forte, adding that she was confident that with her experience in social activism, she could provide insight that would allow Taiwanese to share in the wealth resulting from successful economic policies.
Comments will be moderated. Keep comments relevant to the article. Remarks containing abusive and obscene language, personal attacks of any kind or promotion will be removed and the user banned. Final decision will be at the discretion of the Taipei Times.