Tsai urges KMT to cease allegations
LOW STANDARDS: The allegations against Tsai Ing-wen over land speculation made by Alex Tsai and Chiu Yi have proven to be inaccurate, but they said Tsai is lying
Democratic Progressive Party (DPP) presidential candidate Tsai Ing-wen (蔡英文) yesterday called on the Chinese Nationalist Party (KMT) to "stop before going too far" with allegations that she was involved in real-estate speculation.
"The facts are clear, it is recorded in official documents, yet the KMT is still making baseless allegations," Tsai said in response to reporters questions on the sidelines of a rally for the DPP legislative candidate Lu Sun-ling (呂孫綾) in New Taipei City's Taishan District (泰山).
"There is no need to continue [the dispute], this issue was proven to be false and a lot of [KMT] remarks have crossed the line, it should stop before going too far," Tsai said.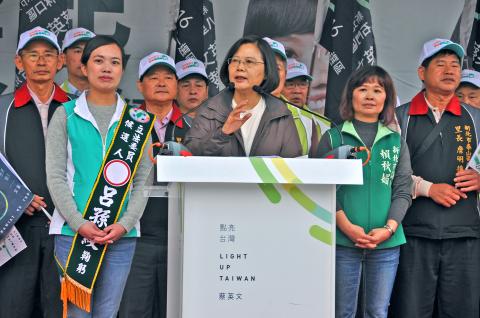 Democratic Progressive Party (DPP) presidential candidate Tsai Ing-wen delivers an address at the opening of DPP legislative candidate Lu Sun-ling's campaign headquarters in New Taipei City yesterday.
Photo: Kuo Yen-hui, Taipei Times
KMT Legislator Alex Tsai (蔡正元) and former KMT legislator Chiu Yi (邱毅) in past days have accused Tsai Ing-wen of being involved in land speculation, as she purchased 15 plots in New Taipei City's Neihu District (內湖) in 1988 and sold them in 1997, allegedly making NT$180 million (US$5.5 million) in profit.
The DPP on Friday presented official property registration records at a news conference, saying the KMT was wrong about the size, price and plot number, as well as the number of land owners.
However, Alex Tsai and Chiu said that Tsai Ing-wen and the DPP lied.
Despite the accusations, Tsai Ing-wen yesterday received a warm welcome from a crowd of supporters at the rally.
Tsai asked supporters if KMT Legislator Wu Yu-sheng (吳育昇), who has represented the constituency since 2008, has made improvements to the area and if President Ma Ying-jeou (馬英九) has brought positive change to Taiwan in nearly eight years as president.
The crowd said: "No."
"So, would you want me to become the next president and Lu Sun-ling to become your next legislator?" Tsai Ing-wen asked.
The crowd said: "Yes."
Tsai Ing-wen said that New Taipei City is a crucial area for the DPP, as there is high potential for DPP seats to increase in the city and that is why she has been putting a focus on the city, with two rallies yesterday.
The crowd surged forward to shake hands with Tsai Ing-wen when she finished her speech. National security and police officers pushed the crowd back to make way for Tsai as she almost fell to the ground.
Separately, DPP spokesperson Wang Min-sheng (王閔生) yesterday at a news conference at the DPP headquarters in Taipei called on KMT Chairman and presidential candidate Eric Chu (朱立倫) to apologize for the KMT's "false allegations."
"The KMT made accusations before confirming all the facts. It is not only lowering the standards of the election campaign, but is also hurting the nation's democracy," Wang said. "The people will not accept such low-level campaign strategy, and the DPP will not play along."
"Chu should apologize to the public for the KMT's allegations over the past few days," Wang said.
Comments will be moderated. Keep comments relevant to the article. Remarks containing abusive and obscene language, personal attacks of any kind or promotion will be removed and the user banned. Final decision will be at the discretion of the Taipei Times.