Artwork a paean to retiree's youth
MINING MEMORIES: Yu Chen-yun paints scenes of southern Taiwan that he remembers from his younger days and fashions tools out of old newpapers
Paintings and handicraft items highlighting everyday rural life that were created by an octogenarian farmer who only took up painting 10 years ago are featured at an exhibition in Kaohsiung that opened this week.
Yu Chen-yun (尤辰允) was born in the fishing village of Chihkan (赤崁), in what is now Kaohsiung's Zihguan District (梓官區).
He said he took up painting 10 years ago so he could join his grandchild in doodling, and taught himself how to sketch and paint with oils.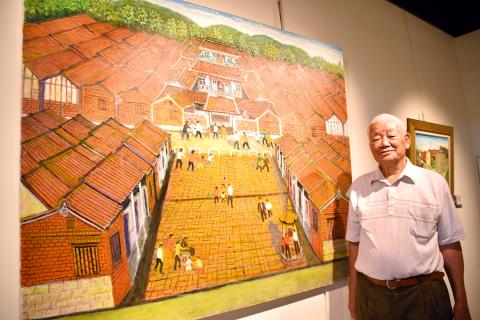 Retired farmer-turned-artist Yu Chen-yun stands next to his oil painting The Chiang Clan's Old Compound in Nanxi, Tainan in an exhibition of his work at the Gangshan Cultural Center in Kaoshiung on Monday.
Photo: Su Fu-nan, Taipei Times
Yu's works, which went on display at the Gangshan Cultural Center on Wednesday, are largely paeans to rural life in southern Taiwan, featuring old houses and scenes from his youth, such as fishermen catching grey mullets and farmers in their fields.
Many of the paintings in the exhibition, as well as the old-fashioned fishing and farming tools created from salvaged junk such as old calendars and newspapers, were created from his memories, Yu said.
Yu was the youngest of seven children and only received three years of elementary-school education due to the outbreak of World War II, he said. He said he had to work to help his family, spending his mornings fishing and working on the farm in the afternoons.
He gave up fishing as a sideline after he was discharged from the army, obtained his own land and started his own family, he said.
The most prominent piece in the exhibition is The Chiang Clan's Old Compound in Nanxi, Tainan (台南楠江家古厝西四進三落十三護龍), which he painted five years ago after visiting the compound with his family.
At 162cm long and 130cm wide, it is the biggest of his more than 1,000 oil paintings, Yu said.
He said he hopes the show will help young people learn about the way of life of their predecessors.
Comments will be moderated. Keep comments relevant to the article. Remarks containing abusive and obscene language, personal attacks of any kind or promotion will be removed and the user banned. Final decision will be at the discretion of the Taipei Times.