CDC warns on dengue as weather turns warm
The Centers for Disease Control (CDC) yesterday urged the public to step up their efforts to prevent the spread of dengue fever by eradicating mosquito breeding sites in their living areas, as the weather is forecast to remain warm across the nation over the next few days.
The warm weather provides favorable conditions for vector breeding, which is why people need to remain vigilant against the mosquito-borne disease, the CDC said.
Since May 1 through Thursday, the nation had recorded 30,902 dengue fever cases, the agency said.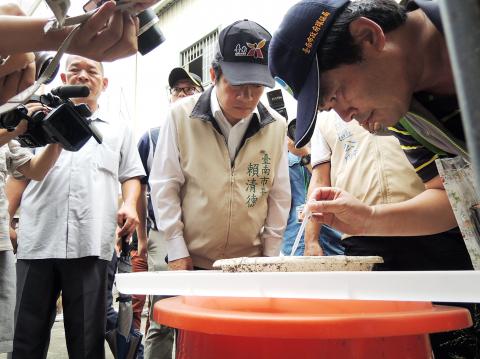 Tainan Mayor William Lai, center, inspects some of the Environmental Protection Bureau's work to combat dengue fever yesterday in Tainan.
Photo: Tsai Wen-chu, Taipei Times
The disease has been concentrated mainly in the southern cities of Tainan and Kaohsiung, which have reported 22,056 and 8,297 cases respectively since May, CDC data showed.
The outbreak has slowed in Tainan, which recorded 60 of the total 303 new cases overnight, but is still on the rise in Kaohsiung, with 235 new cases reported, the agency said.
Last year, Taiwan reported 15,732 dengue fever cases, the previous highest annual number since authorities began keeping records.
Comments will be moderated. Keep comments relevant to the article. Remarks containing abusive and obscene language, personal attacks of any kind or promotion will be removed and the user banned. Final decision will be at the discretion of the Taipei Times.