E-tags invade privacy, human group says
ONLINE: The group warned that privacy of movement is under threat as people are monitored by e-tags on the road and surveillance on the streets
The Ministry of Transportation and Communications' publication of traffic flow data from the nation's e-tag system violates privacy rules, the Taiwan Association of Human Rights said yesterday.
"Now not only are you forced to use the system, you are also forced to allow your information to be posted online," association secretary-general Chiu E-ling (邱伊翎) said.
"There is absolutely no way to know who will use the information — people from anywhere in the world can use this data as long as they have an Internet connection," Chiu said.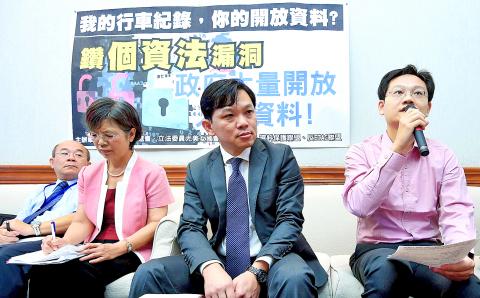 Representatives of the Taiwan Association of Human Rights and other non-governmental organizations at a media conference in Taipei yesterday said that the Ministry of Transportation and Communications' decision to publish traffic flow data from the nation's e-tag system violates privacy rules.
Photo: Chu Pei-hsiung, Taipei Times
Association specialist Ho Ming-Syuan (何明諠) said new traffic flow data released on the ministry's Web site contains information on the time each car passes through a monitoring station which electronically collects national highways tolls, along with information on the vehicle point of origin and destination. While license plate information is not included, the data could be used to track a car during periods of light traffic, he said.
Taiwan Association for Human Rights vice president Chiou Wen-tsong (邱文聰) said the original data set acquired by the ministry included personal information, such as license plate numbers.
The ministry's acquisition of the data is questionable because neither the Highway Act (公路法) nor the toll regulations gave the ministry the right to collect data on the passage of individual cars, Chiou said.
While e-tag contractor Far Eastern Toll Collection Co could collect personal information on users with their permission, it was obligated to remove personal information before turning the data over to the government, he said, also questioning whether the personal information was necessary for toll collection.
"While we are guaranteed secrecy of communication under the constitution, I am feeling more and more that we are losing secrecy of movement — as long as you are outside, you are exposed to government surveillance, which is sometimes conducted using private firms," he said.
The ministry's publication of the data was "absurd," because it refused to release to individual drivers their own toll details, said Anti-E-tag Alliance member Chang Yu-yin (張譽尹), who has refused to use e-tags.
Chang said that the toll bills he receives include only the details of the fees owed along with a picture of his vehicle without providing any information about his route or how tolls are collected.
Far Eastern uses license plate images to issue a bill to drivers who do not use e-tags.
National Freeway Bureau Deputy Director-General Wu Mu-fu (吳木富) said route data for individual cars was crucial for analyzing traffic. Releasing the data was not subject to privacy restrictions because it did not contain personal information, he said, adding that tracing cars would require additional information about the driver's route and times.
He said that his department was also subject to pressure from other non-government groups, which have called for the data to be released under the Freedom of Government Information Act (政府資訊公開法).
Comments will be moderated. Keep comments relevant to the article. Remarks containing abusive and obscene language, personal attacks of any kind or promotion will be removed and the user banned. Final decision will be at the discretion of the Taipei Times.