KMT legislators urge unity after anti-Wang shout
Chinese Nationalist Party (KMT) legislators yesterday urged KMT presidential candidate Hung Hsiu-chu's (洪秀柱) supporters to exercise restraint and called on Hung to unite the party after an incident on Wednesday in which a Hung supporter shouted: "Down with Wang Jin-pyng (王金平)" at a campaign rally.
The campaign event, to mark the founding of Cross-Strait Taiwanese Businesspeople for the KMT, was attended by party leaders including President Ma Ying-jeou (馬英九) and Hung.
KMT Legislator Lu Chia-chen (盧嘉辰) panned the behavior, saying that negative "emotional outbursts" serve only to "damage Hung" at a time when the party must "unite in solidarity" to "cut a bloody path" out of its predicament.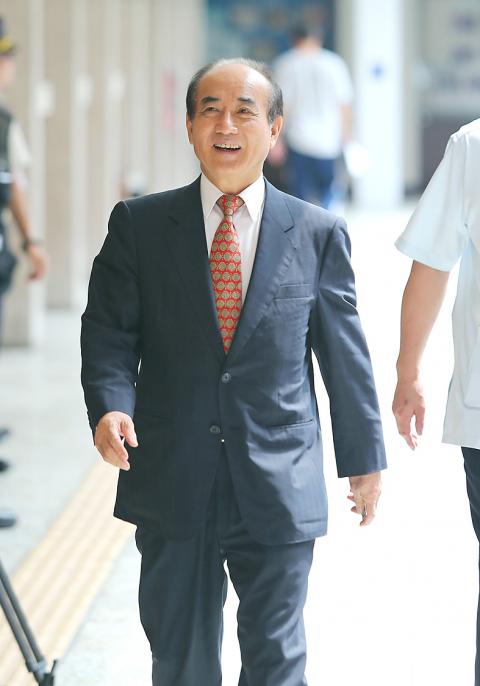 Legislative Speaker Wang Jin-pyng walks near the legislature in Taipei yesterday.
Photo: CNA
KMT Legislator Lo Shu-lei (羅淑蕾) said that the event should have been an occasion for party leaders to express unity, not for "saying divisive words."
She added that while KMT grassroots supporters are united in hoping Ma and Wang's factions mend their fences, the outburst "created the impression of a deepening rift within the KMT."
An unnamed KMT legislator from a northern district in Taiwan called on Hung to "demonstrate wisdom" by uniting the party, saying she is running for president, not local party leader.
The source said that if Hung fails, she would be left with "no one to vote for her except her own diehards."
One Wang faction legislator said that the outburst inappropriately suggests to the public that there is "a struggle over party lines" within the KMT, adding that Hung should "focus on winning," rather than "creating divisions."
Comments will be moderated. Keep comments relevant to the article. Remarks containing abusive and obscene language, personal attacks of any kind or promotion will be removed and the user banned. Final decision will be at the discretion of the Taipei Times.