Military teams near AT-3 search area in mountains on third day of mission
HIKING: The search for two AT-3 trainer jet pilots has seen 558 military personnel and 40 aircraft sorties travel into dense forest without sign of the jet or the pilots
Two military-led ground units neared a target area yesterday to join air units searching for the missing AT-3 trainer jet and its two pilots, as the operation in the rugged mountainous region along the border of Hualien and Nantou counties entered a third day.
One 28-strong team composed of infantry and special forces personnel from the army's Hualien-Taitung Defense Command and led by Major General Ku Sheng-wen (古勝文) approached the target area by hiking through mountain trails yesterday afternoon, and were to join the search after camping overnight.
Personnel from a 10-member search party led by Colonel Yuan Kuang-hua (袁光華) from the airforces's 455th Tactical Fighter Wing out of Chiayi Air Force Base were taken by helicopters to a Shawuluan Mountain (沙武巒山) landing zone — only 1.5km from where the twin-engine AT-3 trainer jet was last reported on radar screens — where they rappelled in to join the operation.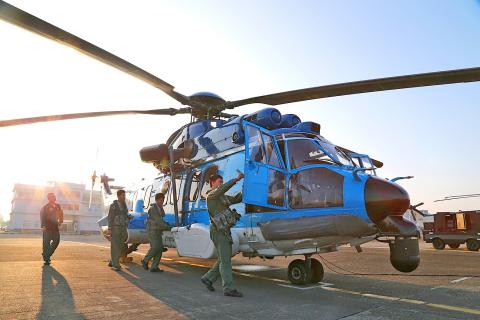 The crew of a rescue helicopter yesterday morning prepare to resume a search for two missing pilots of an AT-3 Air Force Academy training aircraft that went missing in Hualien County on Tuesday.
Photo: provided to CNA by the Military News Agency
Military officials said they set up a base camp on Shawuluan Mountain, and a twin-rotor CH-47 Chinook transport helicopter made two sorties from a high school in Hualien's Rueisuei Township (瑞穗) to the base camp to deliver equipment and food.
Along with the Chinook, the Ministry of National Defense dispatched S-70C "Seagull" helicopters, EC-225 "Super Puma" helicopters, RF-5E reconnaissance jets and E-2K early warning aircraft among a total of 19 sorties.
Over the past three days, the search has seen 558 military personnel on the ground missions, along with 40 aircraft sorties, ministry spokesperson Major General David Lo (羅紹和) said.
The ground team led by Ku departed Rueisuei and traveled toward the search area via a logging road before taking to foot on treacherous mountain trails made difficult due to frequent earthquakes and landslides in the area, the ministry said.
"It is physically demanding, because they had to carry supplies over mountainous terrain and had to use machetes to clear the trail where it was overgrown in some places," a military official said via satellite phone.
"In other locations, they had to make detours where the trail was blocked by fallen rocks," the official said.
Comments will be moderated. Keep comments relevant to the article. Remarks containing abusive and obscene language, personal attacks of any kind or promotion will be removed and the user banned. Final decision will be at the discretion of the Taipei Times.