DPP produces 'souvenir' piggy banks to meet demand
The Democratic Progressive Party's (DPP) latest piggy bank campaign has proven successful, perhaps just not exactly the way it planned.
The party has been giving out small piggy banks to its supporters, encouraging them to fill the banks and return them to the party as a form of small-scale fundraising.
However, DPP lawmakers' offices said that party headquarters could not keep up with supporters' demand for the banks, as many were being kept as souvenirs, so the party has had to produce a "souvenir version" that supporters can keep after turning in the original ones.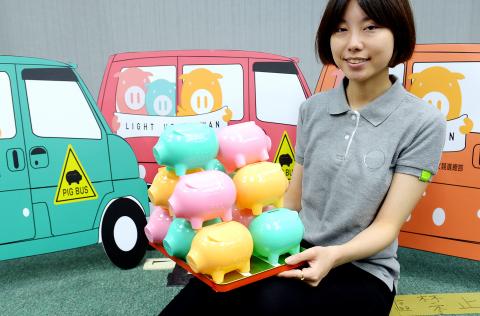 A woman holds up a tray of piggy banks that is to be used for Democratic Progressive Party campaign donations.
Photo: Lin Cheng-kung, Taipei Times
The "souvenir version" piggy banks, which were released yesterday, have DPP presidential candidate Tsai Ing-wen's (蔡英文) signature on them, DPP spokesperson Cheng Yun-peng (鄭運鵬) told a news conference in Taipei.
The DPP first used piggy banks as a fundraising strategy in 2011 as part of Tsai's campaign for the 2012 presidential election, after three children had donated the contents of their piggy banks to her campaign.
Tsai last month told a visiting US congressional delegation that a total of 140,000 piggy banks were received, accounting for 87 percent of the funds she raised for that presidential run.
Cheng yesterday announced a series of events for this weekend to celebrate the party's 28th anniversary, which falls on Sept. 28.
However, this year, Sept. 28 is also the final day of a three-day long weekend for the Mid-Autum Festival, which falls on Sept. 27, so the party has moved its celebrations ahead by one week.
"We will be holding our national congress at the public library in Taoyuan's Pingjhen District (平鎮) on Saturday morning and will host an evening gala at Jhongjheng Park [中正公園] in the city's Jhongli District [中壢]," Cheng said.
"A market featuring handmade and creative merchandise, as well as organic products grown in Taoyuan, will gather in the afternoon," Cheng said.
The evening gala would feature a performance by the Paper Windmill Theatre (紙風車劇團) as well as several bands, Cheng said.
Asked if Tsai would announce her running mate before the national congress — as she did for the 2012 presidential election — Cheng said the DPP would respect Tsai's arrangements, and therefore a vice presidential candidate would "not necessarily" be decided by then.
Comments will be moderated. Keep comments relevant to the article. Remarks containing abusive and obscene language, personal attacks of any kind or promotion will be removed and the user banned. Final decision will be at the discretion of the Taipei Times.