Independent candidates' requirements unfair: Shih
Requirements that independent presidential candidates announce their running mates when registering with the Central Election Commission (CEC) are unfair because candidates from major political parties are given more time to consider their choice, independent presidential candidate Shih Ming-te (施明德) said yesterday.
The CEC is to begin accepting registrations from independent candidates this week, with a registration deadline of Sept. 21 to enter the second petition drive phase required to be placed on the ballot.
Shih said that he faced substantial "time pressure" to come up with a running mate before the deadline, while candidates from the major political parties are able to wait until November before having to announce their running mates.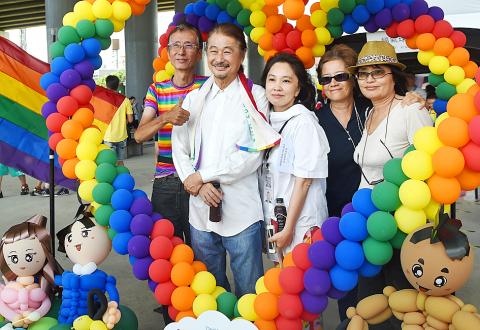 Independent presidential candidate Shih Ming-te, second left, is joined by his wife Chen Chia-chun, center, and gay rights activist Chi Chia-wei, left, at the Run for Love marathon for same-sex rights at Taipei's Dajia riverside park yesterday.
Photo: Chien Jung-fong, Taipei Times
Combined with a high petition drive signature threshold, the requirement to announce running mates early makes the election unfair for independent candidates, he said.
Shih said he cared most about "complementarity" in choosing a running mate, adding that while his office had already held substantial discussions, there was nothing else he could reveal for the time being.
He said he still has concerns about what would occur if something unexpected happened to his running mate during the petition drive period that prevented them from running, adding that, during discussions with the CEC, he had been told that if anything happened, he could name a new running mate.
Shih participated in a Run for Love marathon for same-sex rights at Taipei's Dajia Riverside Park (大佳河濱公園), greeting competitors and gathering signatures for his petition drive at a booth.
While many participants signed his petition, he said his efforts would not be sufficient to cross the petition threshold and that he was in the process of lobbying non-governmental organizations, religious groups and other associations for help.
Under the Presidential and Vice Presidential Election and Recall Act (總統副總統選舉罷免法), Shih must gather a number of signatures equal to 1.5 percent of the voters in the most recent Legislative Yuan election to be placed on January's presidential ballot, or about 270,000 signatures.
He said that he has gathered about 100,000 signatures.
He criticized the threshold for being too high, saying that it restricts the rights of the people to participate in government.
Comments will be moderated. Keep comments relevant to the article. Remarks containing abusive and obscene language, personal attacks of any kind or promotion will be removed and the user banned. Final decision will be at the discretion of the Taipei Times.