Rice fish could fight dengue outbreak
NATURAL SOLUTION: The fish, which are endemic to Taiwan and once flourished in rice paddies across the nation before the use of pesticides, eat mosquito larvae
Joint efforts by National Cheng Kung University (NCKU) and National Taiwan Ocean University (NTOU) to recover populations of oryzias, or rice fish, endemic to Taiwan may provide a solution to Tainan's dengue fever outbreak, a marine biologist said.
NTOU professor of marine biology and environmental science Chen Yi-hsiung (陳義雄) said rice fish were once widespread in Taiwan, but their numbers had rapidly dwindled due to the widespread use of pesticides, and for a time the fish could be seen only in the rice paddies of New Taipei City and Yilan County.
The university's research team acquired 20 specimens about six months ago from rice paddies in New Taipei City's rural areas, and the team has been breeding the fish in Gongliao District (貢寮), Chen said.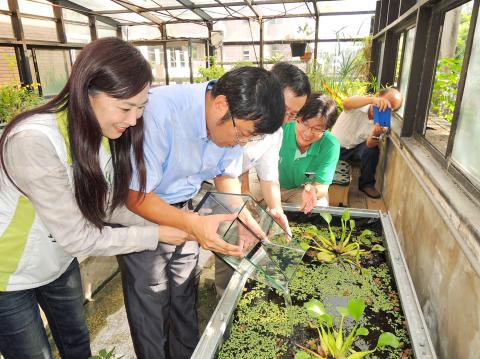 National Taiwan Ocean University professor Chen Yi-hsiung, second left, pours rice fish into a tank on Thursday in Tainan. Rice fish might help humans reduce the larvae of the mosquitoes responsible for spreading dengue fever.
Photo: Wang Chun-chung, Taipei Times
The breeding program was successful and the specimen count has increased to between 700 and 800 fish, Chen said.
Chen said that with prolonged breeding programs it was possible the researchers could increase the number of fish to 5,000 or even 10,000.
Both rice fish and paradise fish are endemic to Taiwan and consume the larvae of mosquitoes, Chen said.
Other species, such as mosquitofish and guppies, also eat mosquito larvae, but introducing foreign species would disrupt the ecology, Chen said.
Breeding the rice fish and introducing them to counties across the country with dengue outbreaks may help control the problem, Chen said.
Democratic Progressive Party (DPP) Tainan City councilors Kuo Kuo-wen (郭國文) and Lin Yi-chin (林宜瑾) visited NCKU, where Chen demonstrated the uses of the rice fish in tanks at the institute of biotechnology.
Of the 18 counties and cities that have reported dengue fever outbreaks, Tainan has been the hardest-hit, with over 4,000 cases reported, accounting for nearly 90 percent of the total across the nation.
The municipality has also seen at least 10 deaths that have been given preliminary confirmation as being due to dengue.
Comments will be moderated. Keep comments relevant to the article. Remarks containing abusive and obscene language, personal attacks of any kind or promotion will be removed and the user banned. Final decision will be at the discretion of the Taipei Times.