Candidates wooing voters with range of campaign items
Legislative candidates from the nation's two biggest parties are starting to step up election campaign efforts across the nation in the run-up to January's polls.
Chinese Nationalist Party (KMT) Legislator Chen Chien-ko's (陳建閣) campaign office has designed items to help remind voters in Taitung County of Chen's efforts.
The office said it has designed traditional items to give out, such as fans, pens and packets of tissues, adding that Chen's wife, Cheng Chen-yun (鄭晨芸), commissioned a keychain that doubles as a can opener and features a plastic doll of Chen.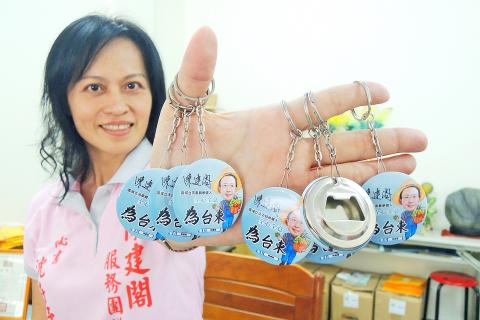 A member of Chinese Nationalist Party (KMT) legislative candidate Chen Chien-ko's campaign staff yesterday displays a two-in-one bottle opener and key ring, designed by her campaign team in Taitung County.
Photo: Chang Tsun-wei, Taipei Times
We hope this tool will help bring the people closer to the candidate, the office said, adding that the keychain can be used as a decorative item, for example to be hung on a bag.
When asked about his main rival, Democratic Progressive Party (DPP) Legislator Liu Chao-hao (劉櫂豪), Chen said that he was not afraid of the challenge.
By continuing our visits to the people of the county, we will be able to win their recognition with our sincerity and willingness to do things for them, Chen said.
The campaign office said that residents are free to visit the office to get the items, adding that each resident would be limited to two key chains.
Comments will be moderated. Keep comments relevant to the article. Remarks containing abusive and obscene language, personal attacks of any kind or promotion will be removed and the user banned. Final decision will be at the discretion of the Taipei Times.