New party focusing on social welfare for disabled people
The Social Welfare Party was officially launched yesterday, with the party vowing to fight for the rights and benefits of people with disabilities.
Songs and dances by a group of disabled artists opened the party's press conference in Taipei, with signs lining the wall urging voters to vote for the party's legislative candidates regardless of whom they choose for president in the Jan. 16 elections.
"We want public welfare — not independence or unification," said party Chairman Cheng Long-shui (鄭龍水), a blind activist and former New Party legislator.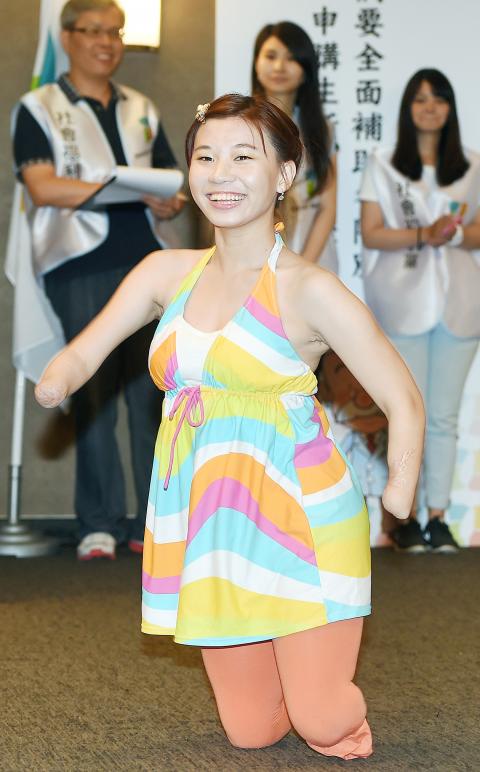 Kuo Wei-chi dances at a press conference in Taipei yesterday held to mark the launch of the Social Welfare Party.
Photo: Liao Chen-huei, Taipei Times
Cheng said the Chinese Nationalist Party (KMT) and the Democratic Progressive Party (DPP) have only promoted welfare policies as a political tactic, focusing on groups such as farmers and civil servants, instead of the truly needy, including people with disabilities or chronic illnesses.
"As a party focusing on a single issue, all the policies we advocate are related to social welfare," Cheng said.
An initial party platform focused on a range of new benefits for disabled people, including full subsidies for job training, assisted living equipment and long-term care, as well as exemptions from hospital registration fees.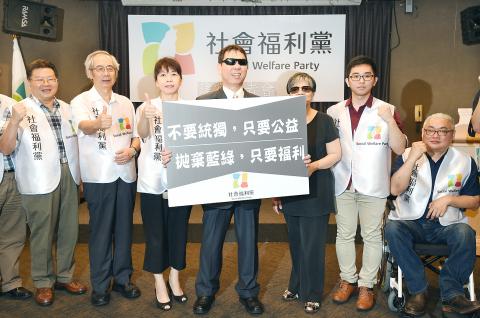 Social Welfare Party Chairman Cheng Long-shui, center, and party officials yesterday hold a press conference in Taipei to launch the party.
Photo: Liao Chen-huei, Taipei Times
The policies are to be paid for through a wealth tax, raising the value-added tax by 1 percent, increasing taxes and fees on cigarettes and alcohol, as well as requisitioning half of the profits earned by the national lottery, the party said.
The party estimates that the new measures would raise NT$110 billion (US$3.37 billion), enough to fund new disability benefits as well as policies to help the poor and older people.
Cheng said the party would also push for stronger enforcement of accessibility regulations and drop all application requirements for disabled people who want to employ a foreign caregiver.
He ruled out forming a coalition with other small parties, expressing confidence that votes from the nation's more than 1 million handicapped people and their families would be sufficient to push the party over the 5 percent threshold necessary to gain a legislator at-large seat.
The party does not rule out cooperating with the KMT or the DPP if it wins seats in the Legislative Yuan, depending on the social welfare policies that either party is willing to support, Cheng said.
Comments will be moderated. Keep comments relevant to the article. Remarks containing abusive and obscene language, personal attacks of any kind or promotion will be removed and the user banned. Final decision will be at the discretion of the Taipei Times.